Valentine's Day is right around the corner, and finding the perfect gift can be a daunting task.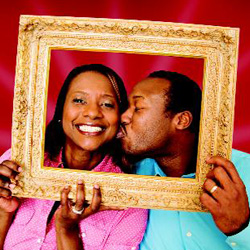 Creating the perfect date night can be even more challenging, as the perfect gift or perfect date will leave you in your sweetheart's good graces for a long time to come. Of course, a Valentine's Day misstep can leave a worse taste in his or her than last year's stale heart candies. So, we're sharing a few ideas to make finding something special this Valentine's Day a little easier.
Something personal You know your loved one best. Consider a gift that speaks to their passions. Is he/she a lover of vintage books? Drop by Hyde Brother's on Wells Street for a great selection of over 150,000 titles. Is your valentine a techie? Stop out to Signature Mac for the best that Apple has to offer. Does your valentine have a green thumb? Check out Broadview Florist and Greenhouse for the perfect gift.
Something to look forward to We all love having something to look forward to, so give your date just that. For your valentine who loves sports, pick up tickets to a TinCaps game or for the entire season at Parkview Field. Stop by the Team Store to pick up a T-shirt or cap you can wrap the tickets up with and you have a great themed gift. For the music lover, consider tickets to an upcoming performance of their favorite artist at the Allen County War Memorial Coliseum or the Embassy Theatre. Have a movie lover you need to please? Season tickets to Cinema Center for some of this year's best flicks is a great choice.
Something decadent The wonderful thing about Valentine's Day is that it's an excuse to be decadent. Consider surprising your loved one with a trip to Country Heritage Winery or to sample craft beers at Mad Anthony's Brewery. If you'd rather try something a little sweeter, consider a deliciously decadent ice cream sundae from DeBrand. It's beautiful and extra romantic when shared.
Something educational Has your special someone always talked about taking a class or learning something new? Check out IPFW's continuing studies calendar for some great classes that will get your valentine's creative juices flowing. Whether you're looking for a class on voice acting, knitting, or anything in between, you're sure to find it at IPFW.
Something classic Valentine's Day is a great opportunity to go for the classic romantic date night. Start with your sweetheart's favorite flowers. Roses are classics but what's more impressive is sending his or her favorite flowers. Cottage Flowers on Wayne Street will be able to help you find a creative solution that fits your sweetheart's personality and style. If sending flowers to the office isn't the right move, consider arriving with flowers in hand to start your date. Fresh Market in Covington Plaza has many affordable options but you'll need to get there early in the day to get the best selection. Follow up the flowers with a classic and romantic dinner for two. Nothing's more romantic than hiding away at the Bourbon Street Hideaway on Columbia Street. It's hidden away location, passionate Cajun cuisine, and romantic atmosphere will set the mood for a great date night. Of course a romantic dinner out doesn't have to be expensive. Consider a "Lady and the Tramp" inspired dinner for two at Ziano's Italian restaurant. Whether your sharing spaghetti and meatballs or a pizza pie it's sure to be romantic on a budget.
And even something practical Is your valentine someone who appreciates the more practical side of things? If so, consider having their car detailed by the team at Fox and Fox. Don't forget to fill up the tank. Of course, a little box of chocolates on the driver's seat is a nice touch too.