On the afternoon I stopped by the newly opened Jai Juice Bar I was battling some emotional turpitude that accompanies the first frosty tinges of late fall. Icey drizzle and gusty winds? You've got to be kidding me. Stumbling through the door, forcing the elements back out of the cheery, bright space, I was greeted with a warm smile from Jai Juice owner Julia Haller. After a fresh pour-over coffee and a invigorating carrot, apple, and ginger concoction my outlook on seasonal change quickly turned into an open armed embrace. Suddenly "Jai", meaning "celebrate" in Sanskrit, made perfect sense for this place.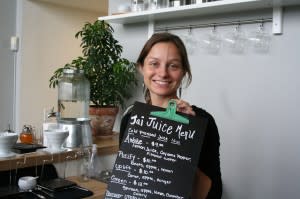 Located in a beautiful, multiuse brick building at the intersection of Douglas Avenue and Lafayette Street, Jai Juice is the combined effort of Julia and Pranayoga Institute of Yoga and Holistic Health founder Dani McGuire. The cozy building hosts a variety of other Fort Wayne businesses including marketing firm One Lucky Guitar, the Fort Wayne Reader, and a private hair salon also associated with Pranayoga. With 1301 Connect, One Lucky Guitar's concert venue "The B Side," and now Jai Juice, the building is swiftly becoming one of Fort Wayne's great business homes.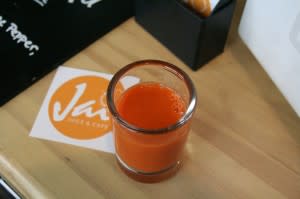 Originally an interior designer with a knack for creating, tearing down, and rebuilding, McGuire has since thrown her hat into yoga practice. Today Pranyoga offers classes at a Southwest studio as well as in their "School of Yoga and Health" adjacent to Jai Juice. McGuire's original interest in juicing came about while researching for the Pranyoga Foundation's cancer treatment program. Seeing the momentum juicing was gaining nationally, McGuire thought the time was right for introducing a new component to Pranayoga's already impressive lineup of yogi-based instruction. Taking a cue from the Gerson Therapy for cancer treatment, Haller and McGuire invested in a cold-pressing Norwalk juicer in order to retain all of the nutrients from the organic fruits and vegetables utilized. This breaking down of ingredients to the cellular level allows for quick digestion that doesn't require any of the typical internal "fire" necessary to break down whole food. After the fruits and vegetables have given all they can, the pulp is then composted by "Young Urban Homesteaders" in exchange for kale or other produce.
When asked why juicing and yoga go so well together, Haller and McGuire state that much like a yoga practice that prioritizes alignment and exercise of internal organs, the emphasis with juicing is on internal wellness through a calm, natural cleansing process. Jai Juice's proximity to the "School of Yoga and Health" studio space also allows for more opportunities for yoga and food events. Just recently the space played host to the "Mindful Family Fair" which provided education opportunities on nutrition and healthy practices for expecting and new mothers and yoga instruction for kids. Fittingly, Jai Juice provided an assortment of alcohol free juice "mocktails".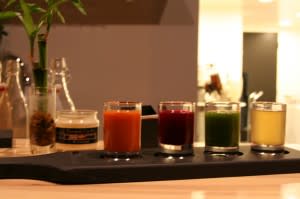 Jai Juice offers a standard collection of juices as well as the occasional seasonal offering such as, "Hydrate" which combines watermelon and jalapeno. Some winter offerings will incorporate pears, cinnamon, turnips, nutmeg, and pomegranate. Juices titled Green (spinach, apple, cucumber, celery, lemon juice), Purify (beets, apples, lemon), Awake (lemon, cayenne, maple syrup), and Uplift (ginger, carrot, apple) make up a cleanse package loaded with flavor. Customers can either grab a bottled juice to go or they can hang out and try juice flights that allow you to sample 2oz flights of the offerings. Subscription packages are also available for frequent buyers.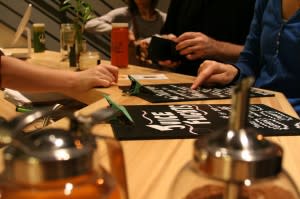 If you're looking for something with a little bit of caffeine Jai Juice also offers an assortment of teas including White Peony, China Green, Lemon Ginger, Jasmine, Earl Grey as well as seasonal coffee offerings from local roaster Utopian Coffee. Asking Haller and McGuire to describe their experience with Jai Juice thus far they gave much of the credit to their customers and partners. "The people of Fort Wayne enjoy good quality businesses and unique things…they don't take it for granted…That's the rewarding part of owning a business in Fort Wayne." You can get the scoop on McGuire's background and Pranayoga check out Holley's post from this summer and Kaila's post from September. Check out Jai Juice Bar daily from 7:30 am -1:00pm and then from 4:00pm - 8:00pm