If you are going to be in or around Fort Wayne, Indiana for the holidays then start rejoicing today and enjoy some of Fort Wayne's best dining this holiday season.  
Enjoy cooking from around the world prepared by someone other than you! 
Most restaurants included will be open Christmas Eve, some with limited hours but not on Christmas day. This means call ahead to check on hours and if necessary, reservations. 
Travel the World with these Fort Wayne Restaurants
Fort Wayne benefited from Catholic Charities helping to bring here two large immigrant populations that are enriching our community. There are between 7000-8000 people of Bosnian and Burmese descent here in Fort Wayne where they're sharing their cooking and culture with the community.
Explore some of the ethnic restaurants that offer an opportunity to travel overseas without ever getting on a plane. 
Nori Asian Fusion (Japanese, Korean, Thai)
Nella's Café (Bosnian)
Mahnin Asian Restaurant (Burmese /Myanmar, Thai)
Queen of Sheba (Ethiopian)
Caliente (Cuban)
2882 E Dupont Road
(260) 739-5387
Nori is a sleek, hip place that causes you to lose a few years just upon entrance. The owners have been in the restaurant business for over 20 years and their expertise shines through. Going here is a Christmas present unto itself. The prices are reasonable, and you get nice sized portions served by an attentive staff.
This restaurant is truly a calm, relaxing place to eat no matter how crowded. I do not eat sushi, but I asked other diners and they were enjoying yellowtail, octopus, spicy tuna, eel avocado roll and squid and vegetarian sushi like California rolls.
Nori is capable of the satisfying the hard to please, an entire family or a group of friends out for dinner. With a range of offerings like Pad Thai (spicy or mild), curries, hot miso soup, salads, tempura, and Korean dishes like Beef Bulgogi, everyone should be in a pretty good mood once they have arrived and the food is served.
The managers of this restaurant are charming. How they came to be here, off Dupont Road is pretty funny. They were checking out locations in Michigan, got lost and found themselves off I-69 on the west side of the road, found the space for rent and set up shop. Michigan's loss was Indiana's gain!
4606 Parnell Avenue
(260) 209-3170
Hours:
Monday through Thursday 9 AM to 9 PM
Friday and Saturday 9 AM to 2 AM
Closed Sunday
This is a favorite in so many ways: the welcoming presence of the owner, the food, the coffee, the interior design of the restaurant are all very European. Having traveled to Eastern Europe and enjoyed meat pies, and a Bosnian goulash, I can say Nella's delivers this without needing to travel.
I'd recommend trying the copper pitcher of coffee served with a piece of Turkish Delight and a large piece of raw sugar! YOU WILL SELDOM WANT TO DRINK COFFEE ANYWHERE ELSE, and you will have enough energy to last you for the next 24 hours.
As for the food, the meat, spinach or cheese pies are a more like a very large (10 inches long, 3 inches high) loaf of homemade, buttery croissant stuffed with delicious meat or spinach and cheese, or just cheese that is baked and brought to your table 20 minutes later. I ate every bite myself, and I don't regret it either. 
I'd also recommend the goulash or the homemade sausage sandwich. The goulash is a rich tomato based beef dish better than other styles of European goulash I had with succulent tender beef and lots of rich gravy, served over a large serving of either mashed potatoes (excellent!), pasta or rice.
On Friday and Saturday evenings, you can enjoy dancing and singing, which is very much in the Slavic-Balkan tradition.  
For my birthday, I am planning to spend the night in Fort Wayne and enjoy a night of dancing and listening to music at Nella's Cafe.
Mahnin Asian Restaurant $
2701 S. Calhoun Street
(260) 744-3584
Hours:
Open everyday 10 AM to 8 PM, Closed Tuesday
Mahnin is a cozy, inexpensive place that does not look like much, but offers a clean environment and a place where the food is well worth the wait!
On a visit with my friend, I had a Burmese rice dish with meat and vegetables that was enough for another meal. My friend had a Burmese shrimp dish made with coconut milk, garbanzo beans, and onions, which I kept eating too because it was so good.
Plus, the egg rolls are outstanding, and the Burmese Tea is the best tea I have had outside of London.
Food is served spicy or mild, just as you wish. While we were there, I saw platters of steaming noodle and rice dishes with lots of meat and vegetables. Some dishes are served with a side of fresh cabbage and hot sauce.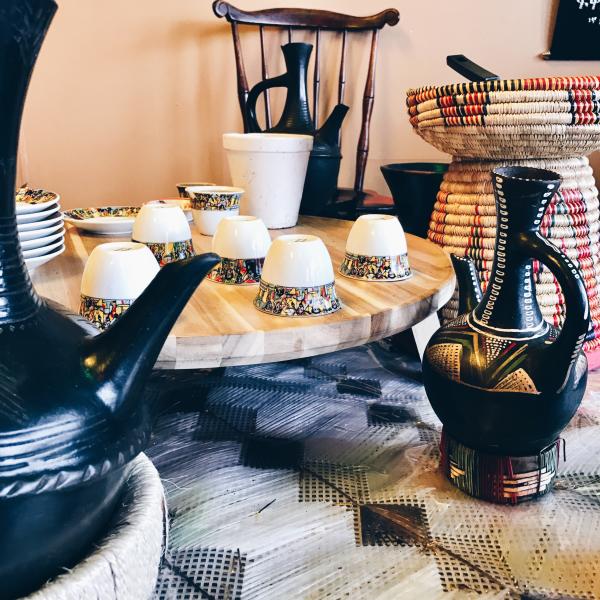 2805 E. State Blvd.
(260) 498-7862
Hours:
Tuesday to Saturday 11 AM - 9 PM
Sunday 12 PM - 9 PM
Closed Mondays
Fort Wayne's very own Queen of Sheba Ethiopian Restaurant offers a heaven like experience. 
Queen of Sheba offers beef (Awazw Tibs), chicken (Drow Kay Wot) or lamb sautéed in olive oil, and in some cases delicious, clarified butter. Dishes are succulently accompanied by vegetables such as bell peppers, tomatoes, cilantro, onions, carrots, green beans, collard greens and cabbage; the meat dishes are as varied as are the vegetarian meals.
There are soups made with tomatoes or their Ezekiel soup with sixteen grains and beans.They have combination platters that serve anywhere from two to five people depending on the order.
I had the Lentil Soup with vegetables, which was very spicy, and my friend had the plain mild lentil soup. It was the one place I didn't need to reach for my own stash of hot sauce. The jalapeno peppers did the trick, plus the fresh cilantro brought the pungent flavors right out into the room.  
We also ordered the injera, which is used as a fork and spoon for scooping food. This is Ethiopian bread which is like a giant tortilla. It is made of teff flour (which is gluten-free) mixed with water. It then ferments for a few days and is cooked like a crepe. It tastes a little like sourdough bread with the texture of a pancake.  It can also be ordered with a side of special butter and berbere, giving new meaning to the word, fiery.
To further understand the Ethiopian culture, the restaurant features a beautiful coffee ceremony.  The coffee beans are roasted right in front of you in a cast iron skillet boiled and served in ceramic pot.
The tastes of the fruit juices (they offer 15 various ingredients), the lightness of the injera bread, and the aroma of the coffee and lemon like frankincense left a pleasant memory for us. 
The service was top notch, the prices reasonable, and the menu diverse enough to satisfy a carnivore, a vegetarian, someone who likes their eyes to tear from the heat, or someone who finds more than salt and pepper a little too wild.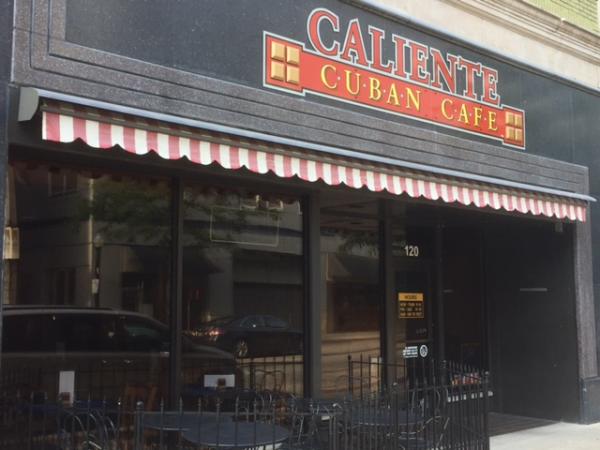 120 West Wayne Street
(260) 471-0900
Caliente offers a varied Cuban menu not to be confused with Mexican food or other South American cuisine, as it grew out of the Cuba's mix of Spanish, Indian and Caribbean influences.
Caliente will be featuring a traditional Cuban meal served all day up until midnight on Christmas Eve, which is called Noche Buena meaning Good Night. 
On Noche Buena, a roasted 60-70 pound pig ( Lechon Asado) is the main attraction. The pig will take all day to roast. In Cuba, it is cooked in the ground, at Caliente it will come from the oven. The roasted pig comes from a local farmer and is served whole so that diners can choose whatever part of the succulent meat they want to dine from. 
What makes the meal so great are the flavors: the rice dish has oregano, cumin, ham, bacon as well as fresh peppers. Cuban food is generally not spicy but flavorful. Also on the menu, are black beans and rice (congri), a salad made with a marinade of garlic, onions and sour orange (yuca con mojo), fried plantain (tostonas) along with lots of warm, Cuban bread baked on the spot. 
The cheerful atmosphere and holiday spirit are a welcome spot for those dining alone, with friends or with family. 
This is by no means an exhaustive list, and there are many more outstanding places to eat over the holiday season. Just remember to call ahead to make reservations in some cases, and in all cases, check on their holiday hours.