Fort Wayne's Trek the Trails is back for its fourth year and is now offering "tasty" fare! Free, guided community bike rides are still the main attraction of Trek the Trails,but new walks and food events have been added this year. Trek the Trails is jointly planned and organized by the City of Fort Wayne Greenways Department and Fort Wayne Trails and offers rides at 6 p.m. every Tuesday beginning May 7 through October 1.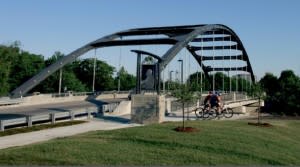 Several events will incorporate Trail Mixers with food available after the ride offering a chance to grab a bite to eat while getting to know other trail users. Trek the Trails will take bicyclists through all parts of the community – along the Rivergreenway, the Wabash & Erie Canal Towpath Trail, the Aboite Trails, the Pufferbelly Rail-to-Trail and the Salomon Farm Trail and even to New Haven's Moser Park.
The rides are 6-8 miles long, and walks will be included on each event that includes a Trail Mixer. There are also longer Saturday rides for more experienced riders. This season will also offer a 1-2 mile walk on the trail at the same time as the bike ride. At all Tuesday rides, participants can enter to win a free bike from Trek and Summit City Bicycles & Fitness.
A full schedule of the Tuesday night ride locations can be found at the Fort Wayne Parks and Recreation page.  Rides may be cancelled due to unsafe weather.