Now that the days are turning warmer, it's time to venture out with the kids and hit Fort Wayne's favorite playgrounds and parks. From slides and swings to playgrounds designed for children with special needs, you can enjoy a variety of unique parks for children of all ages.
1. Foster Park
Located off of Old Mill Road on the south side of Fort Wayne, Foster Park has a variety of activities that will be sure to please the whole family. The playground is filled with slides, swings, climbing walls, and monkey bars, with a special section devoted to little ones. Best of all: You can ride your bike there by taking the Rivergreenway to Foster Park.
2. Buckner Park
Located off of Bass Road, Buckner Park contains two sections of playground with a splash pad in between (summer only). One section of playground is designed for preschoolers with smaller equipment for the little ones to climb and play. The other half of the playground contains larger slides, climbing ladders, and many things to hang from, jump on, spin and more. In the summer, the splash pad will soak the kids while the parents enjoy the shade under the covered pavilion.
3. Indian Trails Playground
Located behind the Jorgensen YMCA off of Aboite Center Road, Indian Trails is a park designed in the round with a central pavilion for parents to watch as kids play in the circular design of swings, bridges, slides and more. One section is designed for little children, featuring a train slide, a pretend car to "drive" and an enclosure to keep kids contained. The park for bigger children has bridges, slides, hiding spots and monkey bars, as well as a variety of swings. Sports fields and the Aboite Trails path surround the park, making it a great afternoon getaway.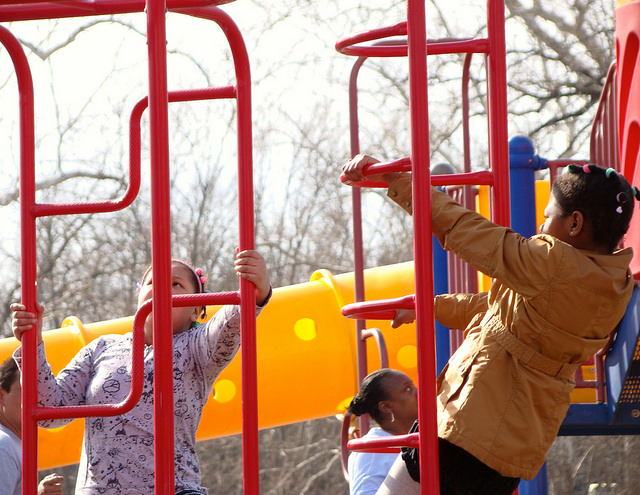 4. Taylor's Dream Boundless Park
Located in Kreager Park, off North River Road, this park was the brainchild of a girl named Taylor, who wanted to see a park for children of all ability levels. The result was Taylor's Dream Boundless Park, which contains playground equipment that can be accessed by all children, including those in wheelchairs. Three different areas, or pods, were designed for specific children's ages. The Alpha Pod was designed for the youngest children. The Beta Pod, designed for children between 2-12 years, provides a multi-sensory play area featuring a T-Rex skeleton. The Gamma Pod, designed for older children (5 - 12 years), offers opportunities for children to play together, including using the cool Aero Glider, which is a multi-user rocker accommodating two wheelchairs. Taylor's Dream was recently named one of the 50 best playgrounds in the country by Early Childhood Education Zone. 

A Supervised Summer Playground Program, sponsored by the Fort Wayne Parks and Recreation Department, includes these additional locations. Check the website for details on the program.
McMillen Community Center
3901 Abbott St.
Community Extravaganza: June 6, 12-4 pm
Lakeside Park
1401 Lake & Vermont
Carnival: June 17, 5-7 pm
Lafayette Park
Lafayette & Douglas
Carnival: June 24, 5-7 pm
Hamilton Park
Spring & Cherokee
Carnival: July 8, 5-7 pm
Packard Park
Fairfield Ave.
Fun Day: July 15, 5-7 pm
Cooper Community Center
2300 Clinton & Creighton
Carnival: July 22, 5-7 pm
Hanna Homestead
Gay & Lewis
Mondays 9-11 am & 3-5 pm
Wednesdays 9-11 am
Carnival: July 29, 5-7 pm
Memorial Park
2301 Maumee & Glasgow
Kaboom Play Day: July 31, 3-5 pm

Have a favorite playground? Be sure to share it in the comments.