Fort Wayne, Indiana has great seafood. For some this may seem improbable. After all, the Fort Wayne coastline meets only the waters of Lake Michigan. But it is true. Here are my top five restaurants for seafood in our fair city. Enjoy!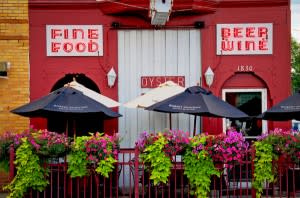 The Oyster Bar - Fort Wayne's oldest restaurant does a fantastic job of producing high-end, carefully prepared fish and oysters in a casual, quaint, and eclectic atmosphere. Word to the wise: be sure to call ahead for a reservation it is popular and the dining room is small.
Paula's On Main - Paula's definitely leads the way where seafood is concerned. The daily specials are always interesting, but the place is known for its outstanding crab cakes and clam chowder. If you can't stay to dine-in then buy yourself some fish or pre-made crab cakes from the fish market in the lobby to take home. It is a win either way.
Catablu - This southwest side eatery serves up excellent seafood in a sleek contemporary space. The menu at Catablu is diverse but not overwhelming - everything from gluten-free fried shrimp to ahi tuna. It is a great spot for a business dinner, date, or solo dining experience. The bar is comfortable and great for eating alone. In the summer the patio is open for your enjoyment as well.
Trolley Bar - The Trolley has a wide ranging menu that includes some tasty seafood fair, including some outstanding walleye. The Trolley offers a seriously date-night inspired environment. The dim lightning and generous spacing between tables provides a nice night for a couple or a casual spot for a business dinner or lunch. The Trolley is always a great stop.
Chappell's Coral Grill - A Fort Wayne institution may be in a newer home, but it still offers great seafood choices including oysters, shrimp, and a variety of fish. The dining room and bar are those of a classic seafood place and the meal was worthy of a return visit. Yum! I get hungry just thinking about it! What are some of your favorites that I might have overlooked?