One of the perks of working at the History Center is getting "behind-the-scenes" and "first" looks at artifacts. A perfect example is an artifact that we were given on July 3, 2012 by Donna J. Vorndran, daughter of former Sheriff Herman C. Holle. Mrs. Vorndran brought us a "soap gun"….a .38 automatic fashioned out of soap that prisoner John Dee Smith made in an attempt to break out of jail. Smith, then 22, was awaiting trial for the murder of Arlie Foster in 1935 according to a news item published on December 17, 1937. Not only did Mrs. Vorndran bring us the gun….she also gave us a scrapbook that her family kept about crimes in Allen County.  
Smith admitted, upon being "found out", that he was mimicking the notorious John Dillinger, who had used the same technique to escape a jail in Crown Point several years earlier. According to Adele Mackanos, writing in "Dillinger Escape: 50th Anniversary." in the Crown Point Register, March 8, 1989: "On January 30, 1934, the notorious John Dillinger was captured in Tucson, Arizona. Due to a bank robbery in Chicago, which resulted in a murdered police officer, Lake County gained priority to Dillinger. Held in the Lake County Jail in Crown Point, Indiana, Dillinger planned his fantastic escape. "While incarcerated in the Lake County Jail, Dillinger carved a gun from a wooden washboard or a bar of soap (local legend varies), and stained the fake gun with black shoe polish.
The escape occurred during the early hours of March 3, 1934. The prop was soon replaced by an automatic gun which Dillinger took from a guard. Soon after, hostages were taken but later released in the get-away to nearby Illinois. On July 23rd of that same year, Dillinger was shot and killed by FBI agents outside the Biograph Theater in Chicago." On December 17, 1937, Kenneth B. Keller, writing in one of the local newspapers, described the Smith gun as "a bar of laundry soap to which had been fitted a 'breach' of tobacco tin and the top of a tooth powder can for a barrel.' "Smith admitted to Sheriff Herman C. Holle that he had made the gun with a pair of barber shears and had intended to use it if he had an opportunity." Holle described Smith as "too good a prisoner" and so the jail staff had him under constant surveillance once he was incarcerated in Fort Wayne after he was apprehended in Los Angeles, where he had fled and lived for two years.
"A week ago last Friday," wrote Keller, "Sheriff Holle and his deputies discovered that something was amiss in the cell block when a pair of barber shears was returned with a sprung hinge after it had been used on the locks of prisoners. "After that incident, Deputies Charles Coulardot, Clarence Kroener, Walter Adams, Fred Schoppman and Malcolm Rapp were assigned to an investigation of happenings in the cell block which ended at 3:45 o'clock yesterday afternoon when the make-believe .38 automatic was found tucked under a mattress in a cell Smith shares nights with three other prisoners.
"Thursday the officials obtained information leading them to believe that Smith had made a gun of some sort. But the inventor kept it hidden that afternoon while Sheriff Holle entered the cell block to quiet a disturbance involving two other prisoners. Outside of Smith's vision, deputies stood, prepared for an escape attempt. "'Had the gun been shown then, I would have known it to be a phoney,' the sheriff commented, 'for no opportunity is given to carry weapons to prisoners and as a further precaution each cell is thoroughly examined after visiting hours every day.' "While Smith was discussing his impending trial yesterday with Defense Counsel Byron Novitsky in the jail consultation room, deputies made a search of his cell and found the soap imitation. "The barber shears were used by Smith to roughly shape the cake of soap and cut up the metal parts which made the gun appear formidable at a distance of but a few feet. The handle was secured to the barrel by a safety pin, and the tell-tale soap coated with shoe blackening." Smith went on trial on February 14, 1938.
Quoting local news reports: "Visibly nervous for the first time since his incarceration, John Dee Smith, 22-year-old former Michigan convict was moved to the county jail at Columbia City yesterday afternoon, in preparation for his trial beginning today in Whitley circuit court on a charge of first degree murder for the alleged shooting of Arlie Foster, Fort Wayne restaurant proprietor. "Smith was 'just a little nervous' when the hour came for him to leave the Allen county jail, said Deputy Sheriff Charles Coulardot who was accompanied on the trip to Columbia City by Deputies Clarence Kroener and Malcolm Rapp.
An hour later, the defendant was placed in the custody of Whitely County Sheriff Eli Sauer. "Today will break Smith's concord of 13. For Smith, who shot Foster August 13, 1935, was captured in Los Angeles, Cal. on the 13th day of a summer month two years later. Before Defense Counsel Byron Novitsky asked a change of venue, his trial had been set for last December 13 in Allen circuit court. "Yesterday was another 13-day, and Smith's last in the county bastille from which he planned an escape several months ago with a gun of soap." According to the web site, John Smith was executed on June 1, 1938.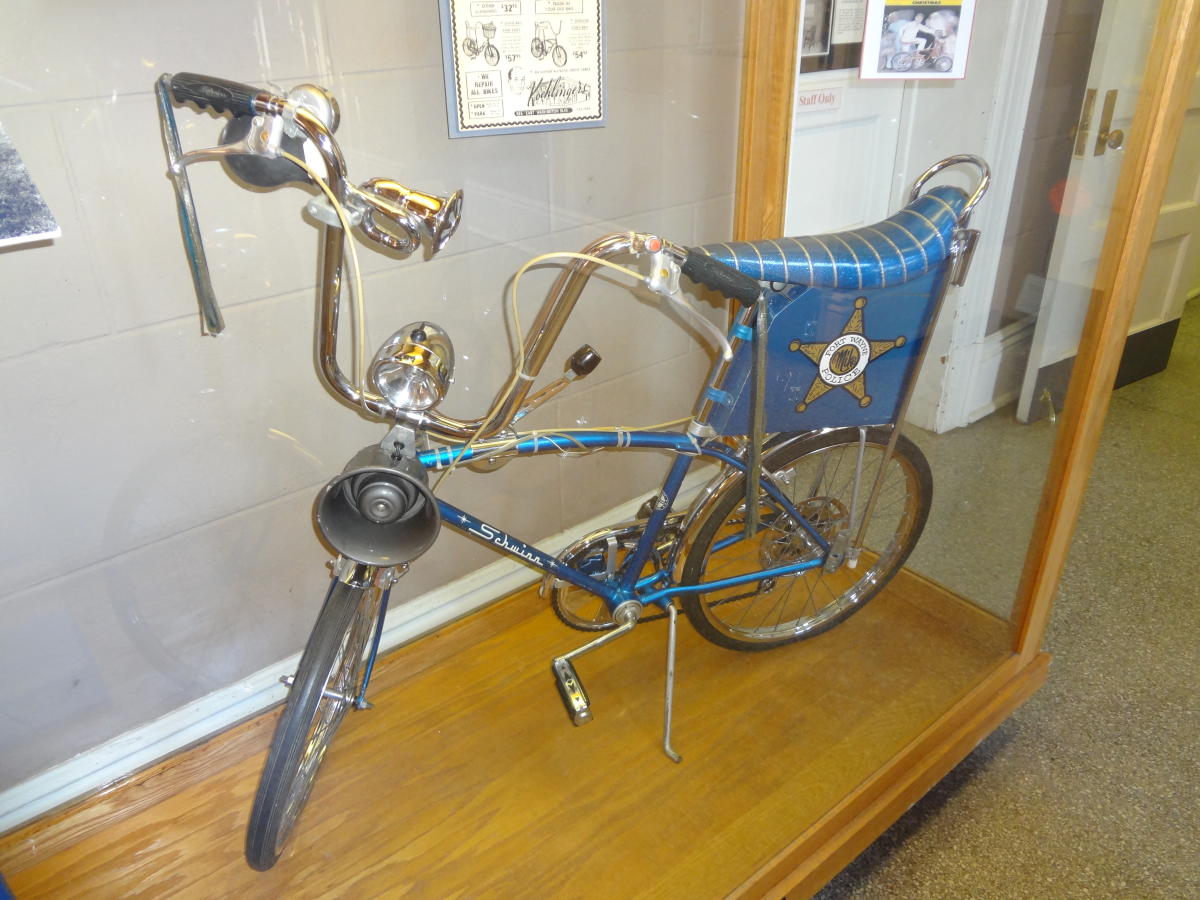 You can see an amazing collection of law enforcement memorabilia and artifacts PLUS the Old Jail...just as it was left by the City of Fort Wayne when they moved to new quarters...all at the History Center, 302 East Berry in downtown Fort Wayne.