Reigning NASCAR champion Tony Stewart will return to his roots to race an open-wheeled midget car in the 14th annual Rumble in Fort Wayne at the Memorial Coliseum Expo Center. The Indiana native, widely regarded as one of the world's most versatile drivers, has entered his black No. 2 Munchkin car for both days of the indoor event on Friday, December 30 and Saturday, December 31. He has won a record seven times on the 1/6-mile track but will be appearing at Fort Wayne for the first time since 2008.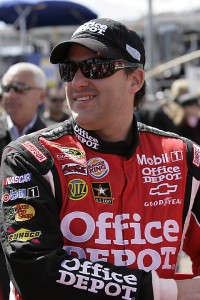 Stewart, 40, claimed his third career NASCAR stock car championship last month, winning five of the final 10 Sprint Cup races. He captured IndyCar and USAC Silver Crown, sprint and midget titles earlier in his career. "I've always taken pride in being able to jump around in different race cars and be competitive," Stewart said. "The Rumble in Fort Wayne is no different. I love running there and have always had a good time racing in Indiana in the winter in front of passionate fans." Stewart, a member of the National Midget Auto Racing Hall of Fame, has been almost unbeatable at Fort Wayne. His seven victories have come in only 12 feature starts dating to 1999. During a stretch from 2004-08, he won six of the eight features in which he competed. His longtime indoor teammate and car builder, Mike Fedorcak of Roanoke, Ind., is also entered in another Tony Stewart Racing Munchkin. "It is very exciting to have the best driver in the world compete here again in Fort Wayne," Rumble Series president Tony Barhorst said. "He will be racing against champions of many different sanctioning bodies December 30 and 31. Fans are encouraged to purchase tickets in advance at the Memorial Coliseum Ticket Office, at
Ticketmaster.com
or by calling (800) 745-3000. Reserved seating (middle sections of the front stretch) is available only in advance and is $22.50 for one day or $41.00 for both days. General admission is $19.50 for one day or $35.00 for both days. Kids 12 and under are admitted for $10.00 for one day or $16.00 for both. Pit passes, available only at the event, are $30.00 for one day or $55.00 for two.