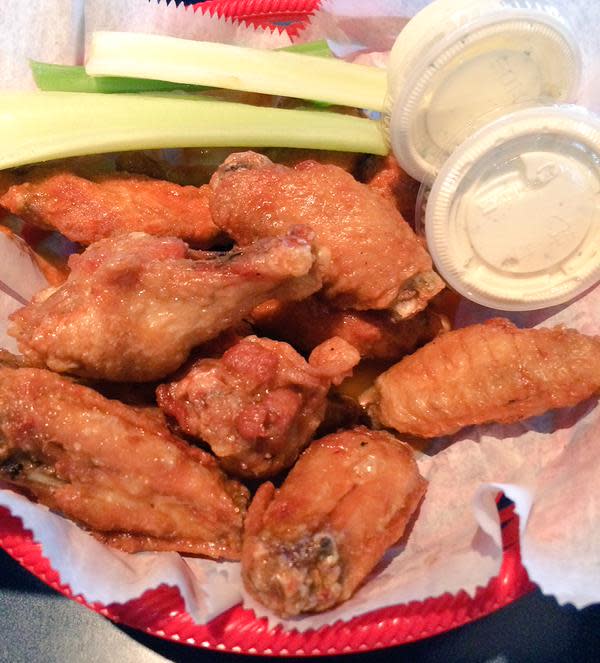 This topic may stir a bit of controversy, as it is a never ending debate around Fort Wayne. However, someone has to do it, and I will be that guy. Who has the best Chicken Wings (or Buffalo Wings) in town?

I'm sure you and your friends have argued this topic on more than one occasion. From my own experience, I have seen it discussed at an intensity level higher than many social issues, as everyone defends their "wing spot" as though it was a family member. Even my charming grandmother has aggressively defended her territory.

There is a good reason for the lack of agreement: Fort Wayne is stockpiled with several outstanding chicken wing options. As a wing enthusiast, I take this topic very seriously, not leaving out even the smallest of detail. To me, a good chicken wing must possess three important qualities: size, texture and sauce. Any immense default of one of these specifics can deter a wing's overall value. Even one bad bite can ruin a wing's reputation. Forever. So, I made my way around our great city to find Fort Wayne's best chicken wing. I tried to keep past biases away from this scientific research. After many bites, napkins, ranch dipping sauces, and full stomachs, here are my findings. *Note: All wings tested were medium sauced.  


Buffalo Wings & Ribs 
4636 Coldwater Rd.
6439 W. Jefferson Blvd

With two locations in Fort Wayne, Buffalo Wings & Ribs prides itself with its popular All-You-Can-Eat deal that runs every Wednesday. For $13.49, a hungry visitor can destroy as many wings as possible, with delicious fries and a soda drink on the side. The restaurant offers 17 different sauces, giving plenty of options for any wing fanatic. A few of my friends enjoy getting their wings "extra wet" for a very slim charge.

John's Take: Wings & Ribs is as good as it gets in terms of wings. The combination of crisp-skinned and juiciness make these wings phenomenal. Although average in size, they are meaty under the skin and feature an aromatic sauce, one any wing lover would enjoy. I could possibly eat these for breakfast and live happily ever after.  

Tower Bar & Grill
2403 West State Blvd.

A hidden gem located on Fort Wayne's West Side, Tower Bar & Grill has been serving customers for over four decades, and their wings menu has slowly grown a popular reputation around town. The Tower Bar and Grill offers wing specials on Wednesday and Saturday evenings for the low cost of 55 cents (dine-in only) per wing. If you have never been here before, I strongly recommend making a visit, and soon. Very friendly customer service, too.
John's Take: Arguably the best combination of all three factors mentioned above, as Tower wings provide the right amount of sauce, crispness and larger size. The wings are cooked to a good temperature, not forcing you to reach for the water. As mentioned, these wings are a hidden secret, but in a short time, they will not be a secret much longer.  

Corner Pocket Pub
3215 Saint Joe Center Rd.

A favorite among IPFW students and North Siders alike, Corner Pocket jumped into this list after an impressive showing during my visit. Corner Pocket has a wing special on Monday and Wednesday nights (dine-in only) for only 50 cents each. I was offered to have my wings either "Wet, Grilled or Double Dipped." Great location to kick back, enjoy games of pool and of course, an adult beverage.

John's Take: Biggest surprise of the bunch. Corner Pocket calls their wings "Jumbo Size" and I can see why. A large sized wing is what every wing lover craves. Additionally, the sauce was smooth and tasty. Not as crispy as the others, but good enough for an overall great experience. Thumbs up.  

Acme Bar and Grill
1105 E. State Blvd.

Located in the heart of the 05', Acme Bar and Grill has become a foodie treasure for hungry neighborhood residents and visitors. While the pizza may get much of the praise, Acme's wing dinner of 12 pieces, fries, cole slaw and Texas Toast for $12.99 is tough to beat!

John's take: If you like smoked wings, you will not be disappointed! These wings are large in size and smoked for several hours, allowing the meat to fall right off the bone. I ordered the medium sauce, but the Hot BBQ smelled delicious, too.  


Other great wings spots: Peanuts, Green Frog, Arena Bar & Grill, Hall's Tavern, Hall's Gashouse, Buffalo Wild Wings, Calhoun Street Soup's and Salads, Wings, Etc.

The debate will forever live on. Have my taste buds played tricks on me? What is your favorite wing spot?