When you think food and baseball, what comes to mind? Hotdogs? Hamburgers? The famous peanuts and cracker jacks from the song Take Me Out to the Ballgame? Did you ever think that you could get an elephant ear, funnel cake, or BBQ brisket at a ballgame? You can, at Parkview Field, home of the Fort Wayne TinCaps.
As an employee in concessions for the TinCaps, I can tell you that the food is delicious, especially the funnel cakes. Don't get me wrong, all of the food is equally delicious, but I am a little biased because I cook the funnel cakes!
Each stand has one or two items that are unique to their stand. Funnel cakes and elephant ears can be found in Concession Stand Three. Concession Stand One has soft serve ice cream. It is served in a cone, waffle cone, or mini TinCaps helmet. Concession stand Two has DiGiorno Pizza, TinCaps Salad, and Veggies and Hummus.  Concession stand Four has homemade chips, TinCaps Salad, and Veggies and Hummus.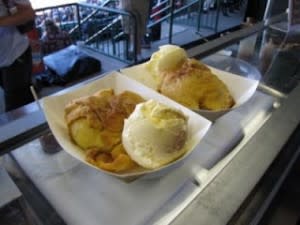 Along with the four main concessions stands, there are the four special areas such as Centerfield Grill, Leinie Lodge, Centerfield Bar, and Third Base Bar. If you are looking for something other than beer or the other traditional baseball food, visit one of the many food and beverage carts when you can get Dippin' Dots, Fresh Squeezed Lemonade, Beef Brisket Sandwich, Philly Cheese Steak, Shaved Ice, or an array of apple desserts. Each cart offers something different.
Come out during the next home game and try any of the food mentioned here and much, much more. I am sure that you will find something you love.