Baseball and beer tasting—sounds like fun, right? Grab a group of friends and come out to one (or the next two!) of the TinCaps tastings this season!
The tastings take place in the Treetops Rooftop Party Area at 6:05 p.m., prior to the start of the game. The first tasting will include a variety of delicious beers from local distributors: Five Star Distributing, AALCO Distributing and Mad Anthony Brewing Company.
An all-you-can-eat meal is part of this VIP package, with a menu including burgers, hot dogs, chicken wings, smoked ribs, grilled chicken breasts, apple crisp dessert and more. Food will be served beginning at 6:35 p.m. through the end of the seventh inning of the game.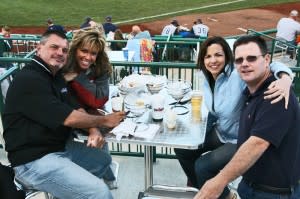 All fans attending the beer tasting receive a free, one-of-a-kind TinCaps pilsner glass, featuring the TinCaps' Opening Day lineups from the past three seasons. They also have a chance to win door prizes throughout the night.
VIP tickets to the beer tasting are priced at $40. A limited number of tickets are available and all of the TinCaps' tastings have sold out well in advance. To make reservations, call Tyler Baker at (260) 407-2802. Fans must be 21 years old or over to attend.
The remaining beer tastings will take place on June 12, and August 8.
Come and enjoy some great baseball and beer!