Ah, there's nothing like a lazy summer day at the ballpark. Fort Wayne has been blessed with a new stadium--
Parkview Field
--that is an attraction in and of itself. And what would a baseball game be without snacks and treats? Come for the baseball, stay for the treats! You'll find plenty of all-American goodness at Parkview Field. Here is a guide to some of my favorite ballpark goodness:
Black bean burger:
This burger is a tasty alternative to a traditional hamburger. Add cheese, and pile on the toppings, and you're set!
French fries:
 These aren't your ordinary, frozen fries. They have flavor! I like to ask for a side of ranch to dip them in. De-lish!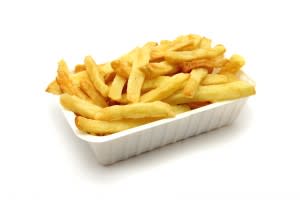 Soft Pretzel with cheese
: This is a great snack if you're looking for something light. The pretzel is the perfect consistency: never too hard or too soft!
Soft serve ice cream:
What is more American than baseball and ice cream? Treat the kids to a scoop or two!
Pizza
: As a vegetarian, often times boring cheese pizza is the only option. But, loaded with flavor, this DiGiorno brand will treat you right!
Veggies & hummus
:  Yes, you can eat your veggies here! The pair makes for a great snack on a hot summer night.
Taco salad:
Load up the veggies and you're in for a healthy and satisfying option.
Wraps:
 Again, this is another way to get your serving of veggies. Of course meat is an option, too. And don't forget about libations! I'm not a beer drinker myself, but I hear their selection is out of this world. Choose from draft beer options: Miller Lite, Leinenkugel's Summer Shandy and Oberon. Yes, it is possible to eat well at the ball game. Did I mention prices are reasonable? You can feed your family for less than it would cost to go out to eat! So, treat your family to a night of baseball and concessions they are sure to remember for a long time! Go TinCaps!