Yes, I am a Fort Wayne native and a HUGE baseball fan, so of course I jumped at the opportunity to blog about the TinCaps. The TinCaps are starting their 3
rd
season, and I still love the feeling I get when I walk through the front gates.  Every employee (and every guest, for that matter) - from concession stand vendors to ushers to management are always friendly, energetic and more than happy to answer your questions.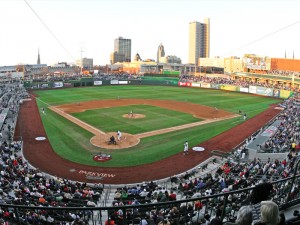 When you go, make sure you get to the game early, so you have time to walk around and check out all the specialty food carts. You can have burritos made to order, enjoy fresh pulled pork and taste a wide array of apple desserts, just to name a few! And, its always a nice break for the kids is to stop by the kid's play area to climb the rock wall or head over to the third base side and take a few swings in the batting cages. Ticket prices start at $5 and top out at $12.50 (and for my family of 6, that's a great price for an afternoon of entertainment!) There isn't a bad seat in the place. Whether you choose to sit behind the plate or take a blanket and relax in the lawn seats, you'll have a great view of every moment of the game. After going to numerous games since the stadium opened, we have sat everywhere. My favorite is behind the dugouts, I love being up close to all the action (and it's a great place to catch some foul balls).  My kids love to sit in the lawn seats, especially on those hot summer days because they can cool off in the water fountain just across the concourse.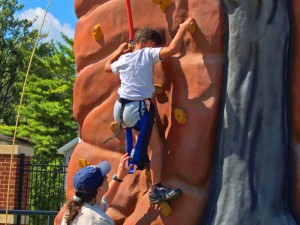 A few tips: Monday nights are Family Feast night - hot dogs, popcorn and pop are just $1. Thirsty Thursdays offer $1 domestic draft beer and mixed drink specials for $2. Friday night is always a "Theme Night"; You can go
online
to get the downlow for each week. And, starting May 27 and running through the end of August, Friday and Saturday nights are fireworks nights! And don't forget Sundays, when you can get autographs and have pictures taken with select TinCaps players after the game. Parkview Field offers family fun at affordable prices!  Definitely a must-see when you are in town!