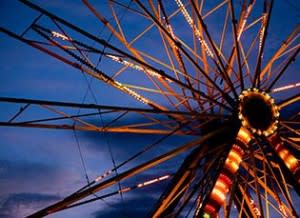 This is the third year I've blogged about the Three Rivers Festival, the largest of Fort Wayne's annual festivals. I've written about Art in the Park, the Chalk Walk, and Food Alley, events which draw me downtown every year. But this year I wanted to take a step back and look at the Festival not only as a place to buy a new painting or eat an elephant ear, but also as a place to celebrate the summer, run into old friends, and most importantly, make memories. Yes, this post is nostalgic. So sue me.
Fort Wayne natives may remember the old Three Rivers Festival commercial and theme song. I did some cursory YouTubing and Googling to find an old VHS clip, but alas, I found only cats. Lots of cats. Anyway, a sample of the lyrics: "So get in on the fun, show us your style. Hundreds of events that'll make you smile. Aren't you glad it's Three Rivers Festival time?" I'm pretty sure I got those right (thanks, brain, for remembering such weird stuff). Here's the thing – I
am
glad it's Three Rivers Festival time. Some of my best summer memories are Festival memories. I remember the flea market beneath the railroad tracks (its most recent iteration can be found in Lawton Park) where I bought Uncanny X-Men #266, the first appearance of Gambit, at the Broadway Comics booth. I remember watching the fireworks from Freimann Square. I remember seeing David Lee Roth at Headwaters Park. I remember walking back to my car, watercolor painting in one hand, elephant ear in the other (okay, so I couldn't resist mentioning the elephant ears). These are memories I made with my parents, my wife, my friends. These are memories that, linked together, form a tradition. If you've been before, come again and keep the tradition alive; if you're new to town or happen to be passing through this July, start a new one. In 2013 the Festival runs from Friday, July 12 through Saturday, July 20. For more information, including a list of events and their locations, please visit
www.threeriversfestival.org
or
www.visitfortwayne.com
.