Update: For information on this year's event, visit our Festivals page.
As a longtime Fort Wayne local, growing up in the Summit City, I've been to my fair share of Three Rivers Festivals. Just around the corner, July 11th-15th, it is not too early to start planning your plan of attack. Over the years I've learned some of the do's and dont's of festival going - some of them the hard way - and I've decided to share my knowledge with you! Some of these things may seem obvious, but their importance cannot be overstated; all of the pieces fit together perfectly to combine for one awesome festival experience you will want to duplicate for years to come.
1. "My mind on my money" - Even though we live in a day and age where checks and cash are starting to seem superfluous, paper money is very much the currency of the Three Rivers Festival. It is important to come equipped with enough cash to sustain you through the whole night. My personal strategy for this includes making a mental list of the items I may want to buy once I arrive. How many food items will I realistically want to eat (it's Junk Food Alley, so I will want to eat everything), and how many items will I allow myself to buy? Moderation is key. I like to bring enough money that I have some wiggle room, but not so much that I will be able to devour an entire truck's worth of food. There are also games to consider. How many game tickets am I going to use - the word use is important. It is always better to buy too few tickets and have to go up for more, then to buy more than you need and end up with leftovers. Parking is also something to consider when packing a purse for the night. Some lots around the festival grounds charge a few dollars to park for the night, so it's not a bad idea to allot a few extra dollars to that. There are ATMs on site at Junk Food Alley in case you run out of funds. Still, I like to go in with the mindset that I'm allowed to spend only what I have on hand; that makes my decisions easier and helps me avoid those annoying foreign ATM fees.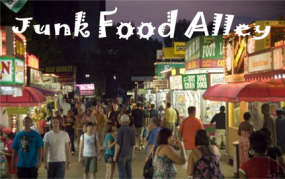 2. Buddy Up! A lot of the festival activities are easier and more enjoyable with a buddy. Traveling with a buddy provides you with a few securities. For one, partnering up on food items will allow you to save some money while still getting your share of fair food. My sister and I are longtime festival buddies, and we work well together. We like the same foods and have it down to a tried and true system - a corn dog each as a sort of main course, then a heaping plate of spiral spuds (smothered in ketchup of course) and an elephant ear both to split. Sometimes we even get one large drink (with free or $1 refills) to share. We both leave satisfied and with some cash to spare. Buddying up also makes the rides more fun. Just in case there is a ride where people sit two to a seat, you've got a riding partner, no worries. And with two people, one person is able to go to the bathroom while the other waits with the stuff (prizes, food, bags, etc.) and then visa versa.
3.   The Double Back - This shopping technique is perfect for anyone who is on a budget or as indecisive as me. Essentially, it is just a foolproof way to make sure you are getting what you really want. It's easy; just do a once-over cursory look at all the food options first. Don't buy anything on the first walk around, just take a good look at the options and remember which ones sounded most appetizing. Then, after you've completed the first go-around, you are ready to bring out the wallet and start the feasting. This technique allows you to see everything all at once first, and then prioritize what you MUST have. The same technique can be applied to  the festival games as well!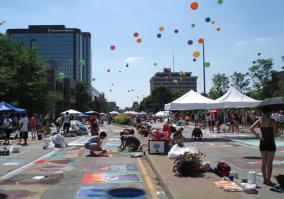 4. Come prepared! Okay, so this one seems like common sense, but really there is a lot to overlook when packing for the festival. Depending on the time of day you chose to go, sun screen or bug spray is a must. Most of the festival is in open field area, so there isn't too much shade from the sun. Another good thing to bring along is water bottles. It's a small thing, but it can be a great way to save some money - then you avoid buying multiple drinks, or buying any at all. For the 21 and over crowd, an ID. This seems simple too, but often times I will only bring cash and nothing else from my wallet to avoid having the temptation of using the ATM, but this also means my ID sometimes gets overlooked. While it won't by any means ruin your festival experience, it will prohibit you from entering the beer tent. Also dress for the weather, but wear proper shoes. It can get pretty hot in Fort Wayne in the summer, so plan accordingly. Still, the festival can be a lot of walking, so more than anything you want to be comfortable. In addition, it  can be useful if you are coming with children who are going to play the games to bring a bag to store their loot. Most of the games offer prizes, and carrying all that around can become difficult quickly.
5. Plan Ahead! I can't say it enough. There is so much to do at the festival that it can be hard to fit everything you want to do in in one day. My sister and I like to split our events up. We always go to the chalk walk earlier in the morning, before the sun is beating down in full force. Depending on our stamina, we can usually combine this with a perusal of the art fair. But that is pretty much enough for us for one day, or at least for the morning. Junk Food Alley is usually tackled in the evening and the food serves as our dinner. Some of the events are day long events in and of themselves; the kick-off parade (July 12th) features over 150 floats and will take much of the afternoon. Further, some of the events are spread out across the city, like Children's Fest (July 18th and 19th) which is held at the IPFW campus. There are lots of ways to do it, but no matter what you chose, be sure you consider the amount of walking and the duration of time you'd like to spend in one outing.   No matter what way you do it, the Three Rivers Festival is not an event to miss. It is always a fun time and definitely promises a weekend to remember! And if you are making it  a weekend and looking for other things to fill the time, check out Visit Fort Wayne for all the hookups.