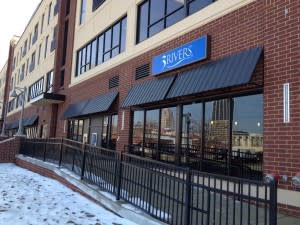 Downtown's newest bank is a visitor's best friend! Three Rivers Federal Credit Union recently opened their Harrison Square branch at Parkview Field, which has allowed many visitors to have access to their accounts while traveling. "The key to making it accessible to visitors is that we're part of the Shared Branching network," said Three Rivers Vice President Jim Johnson. "If your home credit union is part of the Shared Branching Network you can bank with us just like you do your credit union at home. People never believe how easy it is until they try it for the first time. We're happy to help visitors access their accounts and make it as easy as it would be if they were at home."  To find out if your credit union participates in Shared Branching, check their website.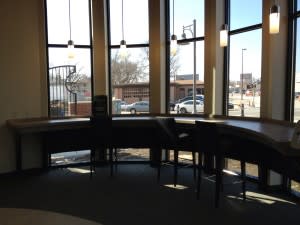 In addition, Johnson tells me the branch is equipped with an outdoor "in-network ATM" saving visitors those pesky usage fees. Tens of thousands of community banks and credit unions are part of the three networks that make up the "in-network ATM" family. Simply check with your financial institution to see if they're part of Alliance1 ATMs, CO-OP ATMs, or CU24 ATMs. If your financial institution is part of one of these networks no fees will be applied to your transaction. In fact, you won't even see the fee screen during your transaction. Johnson tells me this network encompasses over 50,000 ATMs around the country.
The state of the art new branch is located in one of the most visited sections of Fort Wayne. Three Rivers President and CEO, Don Cates is pleased at how accessible the branch is for visitors, "We're happy to be located in the heart of things." Located directly in front of Parkview Field, across from the Grand Wayne Center, within two blocks of the Hilton and Courtyard hotels, and near major employers such as Lincoln Financial that brings in many visitors. In addition to allowing for Shared Branching transactions and in-network ATMs, Cates tells me they've added even more visitor friendly perks like Saturday hours from 9am – 1pm and a cyber café with free Wi-Fi. "If visitors want to get out of the their hotel room but still need access to Wi-Fi, they're welcome to stop in during regular business hours and get some work done," Cates tells me.
For a complete list of Three Rivers FCU's hours and locations go to their website www.3riversfcu.org