What better way to get acquainted with The Clyde Theatre, Fort Wayne, Indiana's movie theatre-turned concert destination, then to spend a weekend attending concerts there?
This spectacular venue is attracting some big names to Fort Wayne, and you don't want to miss out. I've identified three upcoming weekends that include two or more fantastic shows at the Clyde, so you can maximize your stay in Fort Wayne with multiple concerts.
The Best Music Filled Weekends in Fort Wayne, Indiana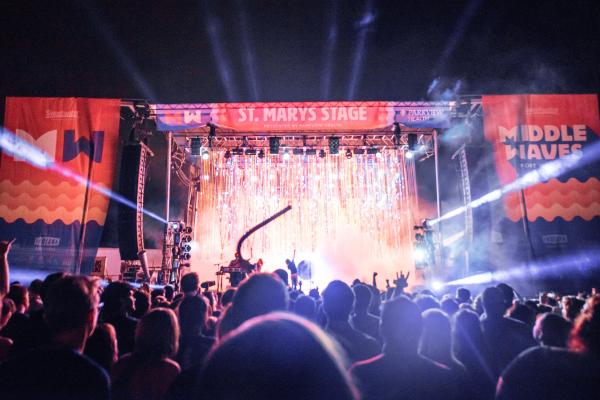 Where to Stay
While my house is only six minutes from The Clyde, not everyone can be that lucky. If you're coming from out of town, I highly recommend staying downtown. It's only a seven-minute car ride to The Clyde (not quite as close as my house, but still pretty good!), and it affords you all of the extra dining and entertainment and other events and festivals in downtown Fort Wayne.
Concert Itinerary 1
June 14-16: Country and Reggae
June 14:  Asleep at the Wheel with Kelsey Waldon
This country group, currently boasting eight members, has racked up 10 Grammy awards and 20 Billboard country chart singles. The Austin-based band is sure to get you tapping your feet with hits like, "The Letter that Johnny Walker Read" and "House of Blue Lights."
June 15: Badfish--A Tribute to Sublime
Who doesn't like Sublime? Groove to favorites like "Santeria" and "What I Got" with Badfish, a group that performs Santeria's hits "with a fury not felt for some time." Warmup acts Unlikely Alibi (ska) and Flamingo Nosebleed (punk) will grace the stage as well.
June 16: Chase Rice
Rocketed to Country fame after his album Ignite the Night debuted at #1 on Billboard's Country Albums, Chase Rice has been crooning on hit lists ever since. He also boasts another unusual claim to fame: his appearance on the TV show Survivor: Nicaragua. Get your Country on as he performs hits from his four albums, including his latest, Lambs & Lions.
Concert Itinerary 2
August 16 and 17: A Weekend of Legends
August 16: The Flaming Lips with Le Butcherettes
The Flaming Lips hardly need an introduction. People will be flocking to Fort Wayne for this one, so be sure to get your tickets early! Their opener, Le Butcherettes, is a Guadalajaran punk band with a strong following in their own right.
August 17: B.B. King's Blues Band featuring Tito Jackson
While the legendary B.B. King passed away in 2015, his blues band continues to tour, sharing his iconic music with the masses. The band includes at least three members who actually played with B.B. King, affording the opportunity to hear the lingering strains of B.B. King's living legacy.
If the last name "Jackson" doesn't mean anything to you, you may want to look up "The Jackson 5," "Michael Jackson," and "Janet Jackson." Tito, an original member of the Jackson 5, is formidable in his own right. He'll be performing his own music from his album Tito Time, in addition to paying homage to his iconic family.
Concert Itinerary 3
September 13-15: Country, Hard Rock, and R&B
September 13: Whiskey Myers
This country band his #1 on the iTunes charts with their hit, "Early Morning Shakes," and #30 on the Billboard Top Country Albums list for "Ballad of a Southern Man." Let music from their two albums, Road of Life and Firewater, transport you to a balmy night south of the Mason-Dixon line.
September 14: Mastodon
With a Grammy nomination and eight albums under their belt, Mastadon is a hard rock band with serious clout. They've been at Coachella and Bonnaroo, and now they're coming to Fort Wayne to share their music, which is largely inspired by natural elements.
September 15: Anderson East
A relative newcomer on the R&B scene, singer-songwriter Anderson East rocketed to fame with his hit single "Satisfy Me." Now with a full album released, Anderson serenades audiences with his singular blend of raspy vocals and potent personality.
Plus, that weekend make sure you check out Middle Waves Music Festival, a two-day music festival along Fort Wayne riverfront. From large interactive art activities to three stages featuring indie, hip-hop and rock & roll, plus food and drink, there's something for everyone at Middle Waves!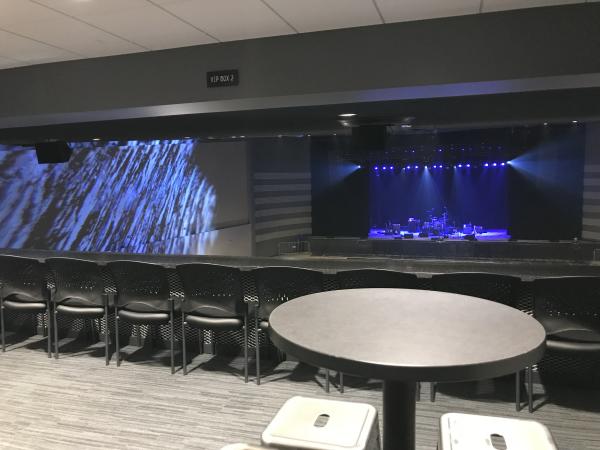 ...And Much More
If none of those weekends work for you, don't worry - The Clyde Theatre has plenty of other concerts to keep you entertained at your convenience. And if you're bringing a larger group, you can make the evening extra special by booking a VIP box, like the one pictured here (if you're short like me, they guarantee a great view of the stage).
Check out The Clyde's full schedule, and plan your unforgettable visit to Fort Wayne, Indiana today!