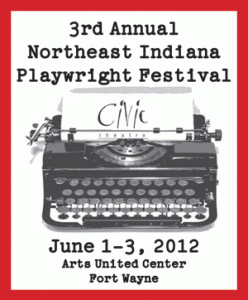 The 3rd Annual Northeast Indiana Playwright Festival will bring together modern day Shakespeares on Saturday, June 1-3 at the Arts United Center.
The winning script was awarded to Athea's Well by Ruth Tyndall Baker. Second place went to Hands Under the Table by Theron RD Steinke, and third place went to Spring at the Willowbrook Inn by Douglas C. Evans and Jonathon Van Dyke.
The winner was selected from 15 entries written from Northeast Indiana residents, from Auburn to Indianapolis.
Athea's Well
is written about Athea Wheeler who is a God-fearing woman struggling to hold her own against her abusive husband by praying to her personal God for strength. This morality play is set in post-depression Missouri where educated drifters are viewed with great suspicion – except by a God-fearing woman! The drifter finds his need for family met in Althea. In a theme that resonates in any decade, the heroine overcomes emotional and financial burdens to claim her own happiness. The festival will feature the world premiere of
Athea's Well
as well as readings of the 2
nd
and 3
rd
place winning plays. Also throughout the weekend there will be the Civic premiere of
Alive and Dead in Indiana
, a workshop, panel discussions, post-show discussions and a reception for the winning script. Come to the Playwright Festival and enjoy these original works written in Indiana!
Schedule of Events:
Friday, June 1, 2012
8:00 pm Alive and Dead in Indiana
 Saturday, June 2, 2012
10:00 am Workshop
11:00 am Lunch break (on your own)
12:00 pm Spring at the Willowbrook Inn reading with post discussion
3:00 pm Civic hosted break
4:00 pm Hands Under the Table reading with post discussion
7:00 pm Dinner break (on your own)
8:00 pm Althea's Well with post discussion, Post-show reception in the Ian Rolland Gallery
 Sunday, June 3, 2012
12:00 pm Panel Discussion
1:00 pm Box luncheon
2:00 pm Alive and Dead in Indiana with post discussion
Arts United Center 303 E. Main Street (260) 422-8641