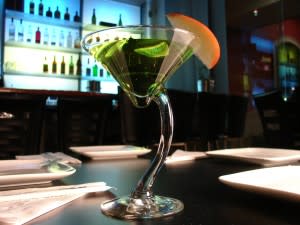 Fort Wayne has no shortage of restaurants, but the nice part is each one has something different to offer.
Main St. Bistro & Martini Lounge
certainly provides its own twist on contemporary dining. Located in the heart of the city on the first floor of the 1st Source Center, the restaurant is a welcome addition to the dining scene in downtown Fort Wayne. Until fairly recently, a lot of downtown eateries closed their doors before dinner. It's nice to have some quality evening-time options for visitors and residents alike. I decided to check the place out one Friday night with a few friends recently. I found the atmosphere to be upscale without being pretentious. The interior has a clean, sophisticated look that will stand the test of time. The outside patio is heated, which provides some comfort on a chilly fall evening. There is plenty of seating out there, too. I imagine it would be fun to have a cocktail (or two) with some friends, while taking in the downtown vibe. According to their website, they specialize in West Coast-inspired cuisine. Think locally grown, a tad unpredictable, and full of unique and fresh flavors. I ordered a a Ceasar salad and an artisanal flatbread pizza that came with a generous amount of cheese and fresh toppings. Menu selections run the gamut, from a burger to wild salmon. Although I didn't order an alcoholic beverage, my friends enjoyed their martinis. (After all, this is a martini place!) There was also a DJ who added to the atmosphere.  In one word, this place is hip. I imagine it caters primarily to the 30-40 crowd who are looking for a nice dinner and drinks in an urban setting. So, whether you're looking for a lunch destination, date night treat, or after work drinks, Main St. Bistro & Martini Lounge is the place to be! Cheers!