Second-hand items can have a lot of charm, and are easy on your pocketbook. The Summit City boasts several option for "previously loved" furniture, clothing, etc. Here are a few local options:
reNew Upscale Resale: This store, located at 6606 E. State Blvd. in Georgetown Square,  carries furniture, home décor & seasonal items,hardware/tools, books, jewelry, sporting goods, toys, and more! The best part: proceeds support Christian education at Blackhawk Christian School.
Peaches Home Furnishings & Antiques: This place, located just east of downtown, is never the same store twice.  From knick knacks , to furniture, to dishware, you are sure to find something that strikes your fancy. They buy, sell and trade.
Habitat for Humanity Restore:  Here, consumers can find new and used items, including construction materials, doors, paint, windows, household items, carpet, lighting, and more at discounted prices. An added perk: shopping the ReStore directly supports the Habitat for Humanity mission.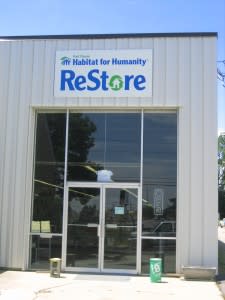 Cherished Again: Cherished Again is one of Indiana's largest consignment furniture stores. They feature a wide variety of pre-owned home and office furnishings to meet your decorating needs
Any others that are your favorites? Here's to bargain hunting!
Also, here are a few considerations for shopping for second-hand goods:
Size can be deceiving: Sizes have changed over the years, so it's impossible to tell if a size 10 at The Gap is the same as a size 10 at a thrift store  The bottom line: it's worth trying on an item — you never know!
Material is king: Knowing what quality material feels like is key to finding quality products. Sometimes you can find well-made vintage clothes that look sharp!
Know the neighborhood:  In more affluent neighborhoods you're likely to find newer, brand name clothing.
Be realistic: Are you really going to fix that zipper, or get that stain out? Make sure to know how far you'll actually go to make the item wearable/usable.