Cinco de Mayo is a great time to celebrate the arrival of spring, and get in a festive mood.  Think El Azteca for your Cinco de Mayo destination.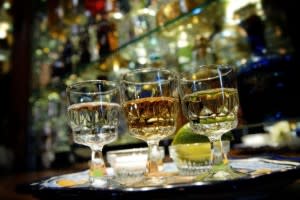 El Azteca, located in the East State neighborhood, has been a staple of Fort Wayne dining since 1973, and it's easy to see why! Maybe it's the quality food - this certainly isn't your average Mexican joint. They serve up quality and consistent dishes, fresh from their kitchen. All of their sauces are home-made, which sets them a part from a lot of restaurants. Not sure what to order? They have a few popular menu items.  You can't go wrong with an order of their nachos, Benji Burritos, Black Bean soup, and Fideo soup. I love their dinner combinations, which allow you to pick from your favorite Mexican staples, like enchiladas and burritos. Many loyal customers  swear by their Mariscos, which is a seafood option for most of the items offered on the menu. Their friendly and fast service is worth mentioning, too.
Their tequila selection is another point of difference. They offer more than 100 types of tequilas. That's right…you read that right–100 varities!! Their tequilas are 100 percent  Blue Agave and are available as a Blanco, Reposado, and Anejo.
As far as Cinco de Mayo celebration, join them 7-10 pm May 4th, with live music from local band
Island Vibe
in their outside tent.  Also, on May 5th guests can enjoy face painting, corn hole, live music from Island Vibe from 4-7 p.m. and D.J. Ric Ramos from 7-11 p.m. Drink specials and give-a-ways are also a part of the fun.