Fort Wayne is known for its wide array of dining options – it's no coincidence that we are known as the "City of Restaurants!" But now, local food trucks are challenging residents and visitors to think beyond the traditional brick-and-mortar. Good food can be enjoyed on the go, from one of several locally owned mobile operations. From all-American to Cajun, these food purveyors offer something for everyone.
Affiné Food Truck: Affiné differentiates itself with its farm-to-fork approach that includes free-range, locally sourced pork, chicken and duck.
Big Apple Pizza: Taking one of America's favorite foods to the streets!
Big John's Ragin' Cajun: Serving the cuisine of New Orleans and the Louisiana Bayou to northeastern Indiana.
Bravas Food: Featuring all-beef hot dogs, fresh chopped veggies and homemade chili.
The Girl of Sandwich: Serving some of the freshest hand-crafted sandwiches in town.
Jimmy Ray's BarBQ: Get your barbeque fix at Jimmy Ray's, serving up ribs, grilled chicken and much more!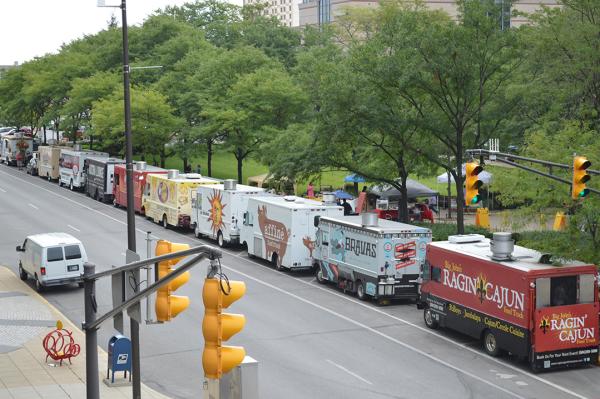 Naked Tchopstix: Fort Wayne's favorite sushi and Korean restaurant on the go!
PizzaBomba: Serving New York-style handcrafted pizzas.
Sol Kitchen & The Getaway Grill: You'll enjoy their large menu - produced locally, from farmers' markets.
Spicer's Food Truck: This ever-changing menu features all-American favorites like hamburgers and pork tenderloins.
Vietnummy: Serving Asian-fusion Vietnamese food, such as Vienamese tacos and Banh Mi.
Whip & Chill: Enjoy ice cream cones, sundaes, floats and shaved ice.
Who Cut the Cheese?: Featuring gourmet grilled cheese sandwiches, fries and tater tots.
Yum Yum's: A local fro-you favorite has now taken to the streets.
Find any of these popular trucks on Facebook or Twitter to learn more about where you can find them during your visit! You can't go wrong with any of these vendors, and many of the others you'll spot around town! To learn more, visit visitfortwayne.com/foodtrucks