If you haven't been to the Main branch of the Allen County Public Library, you're in for a real treat.  This all-ages destination is a great place to spend a lazy afternoon. Here are a few of the highlights:
The Main Library's Jeffrey R. Krull Gallery is located directly inside the library's West entrance. The 3100 sq. ft. gallery is ideal for opening receptions and music performances. In addition to art, the gallery's design accommodates large scale traveling exhibits.
Cafe: Have a coffee while taking in a good book or conversation.  The Twice Sold Tales shop offers used books for bargain hunters.
Meeting space: The Allen County Public Library welcomes the public use of its facilities and meeting rooms for meetings and events which serve the community's needs for education, information, and cultural enrichment.
Genealogy Center: If you want to discover or rediscover your family's roots, this is the place! An experienced staff provides services to a full range of patrons, from children to senior citizens and from beginners to experienced researchers. To support these efforts, the Center has gathered an extensive collection of 350,000 printed volumes and more than 513,000 items of microfilm and microfiche.
Theater: A 280-seat Auditorium, Stage, and Lobby are located in a new high-ceiling space under the Great Hall. This space is suitable for lectures, films, theatrical and dance performances. I've actually performed here and have seen a few shows in this venue. It's definitely under-appreciated!
Children's Services: We can't forget little people!  The Main branch hosts a variety of educational and cultural activities to appeal to children of all ages.  All activities are free and open to the public! Groups should call ahead at at 260-421-1220 if you plan to attend.
Music: In the summer months, the library hosts an outdoor concert series known as Rock the Plaza. This is a great way to see what the Fort Wayne music scene has to offer.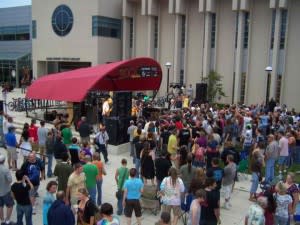 As you can see, the library is a destination for more than just book lovers. Make it a part of your itinerary and you won't be disappointed. For more information on the Allen County Public Library visit the library's page on the Visit Fort Wayne website, or learn more about everything the library has to offer by checking out the ACPL online.