It's finally here - the zoo opens for its 48th season on Saturday, April 21!  Don't miss these highlights as you enjoy hours of family fun at the zoo: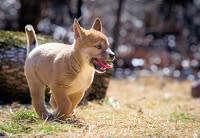 Seven playful dingo puppies have been making headlines since they were born on January 30.  All seven pups should be in the exhibit for opening weekend, but after that they'll take turns on display. At least seven kangaroo joeys are exploring the Australian Adventure.  Born last May or June, the joeys have only recently been out of their mothers' pouches. Look for the northern tree shrew in Dr. Diversity's Rain Forest Research Station.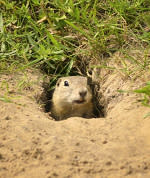 After a four-year hiatus, a guest favorite is back:  prairie dogs return to the zoo in the former Egg Walk area.  The climb-in eggs are now in the African Village. An unusual new creature, the northern tree shrew, moved into the Indonesian Rain Forest.  Though they look like squirrels, tree shrews are closely related to primates. Two male kunekune pigs named Elvis and Pugsley arrived in the Indiana Family Farm.  Small, friendly, and very vocal, these pigs are perfect for our farm. Enjoy tasty food and snacks from our remodeled concession stands this season. The zoo's reticulated giraffe herd grew to eight animals with the addition of 2-year-old male giraffe Ezeji, who arrived from the Indianapolis zoo over the winter.  Ezeji and Jelani, the herd's bull giraffe, will take turns on exhibit with the females. The black-footed penguin and Aldabra giant tortoise exhibits received new landscaping, fencing, and signage. The zoo's new food service partner, Service Systems Associates, now offers pizza by the slice, whole pizzas, wraps, and salads. In keeping with the zoo's conservation-minded practices, concessions will use biodegradable plates, cups, and utensils. "We can't wait to share the new zoo babies - and all our new features - with our half-million guests in 2012," says Anderson.  "It's going to be a great season at the zoo!"