No one expects to have a child with special needs. I certainly didn't. But when it happens, it quickly becomes clear that this world can seem like an unfriendly place for people with disabilities. Parents fight battles every day to make services available and accessibility a priority, so when those things are wrapped up with a bow and handed to you, well…it's magic. 

A Weekend at Turnstone—a Mom's Perspective 
Our family has the privilege of experiencing this kind of "magic" at the Plassman Athletic Center at Turnstone, a center for children and adults with disabilities, throughout the fall and winter months. Turnstone's tagline, "We create possibilities," sums up what it has done for our daughter.
Amelia, 15, was born with Spina Bifida, a neural tube defect that affects mobility (among other things). She discovered wheelchair basketball when she was 10 years old and a new world of competition and camaraderie opened to her. Her team, the RHI Racers, plays in tournaments at Turnstone several weekends a year.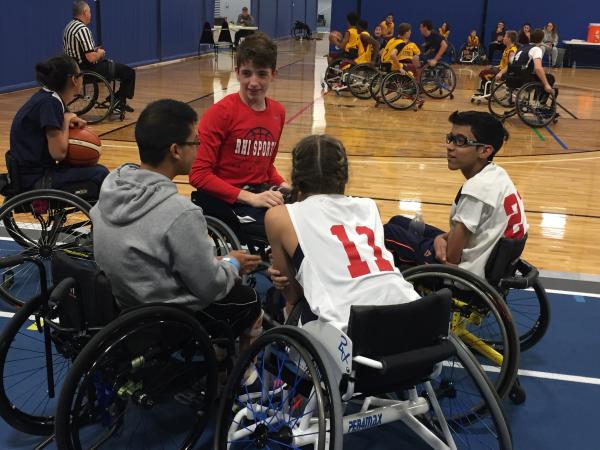 A Step Above at Turnstone - the Tournament Experience
Often when we go to wheelchair basketball tournaments, we find ourselves in high school gyms that aren't set up for wheelchairs, especially 100+ of them! Turnstone's four, full-size basketball courts have ample seating and an indoor track encircles the courts, allowing the athletes plenty of room to get to their court without fear of interfering with other games. The track is also a great energy-expeller for spectators who need to stretch their legs and get some exercise. 
The accessible restrooms are plentiful and easily navigated by wheelchairs. Concessions are always available with seating at windows for easy viewing of games along with an upper viewing area with additional tables and chairs—and even ping-pong! Our son enjoys having something else to do when he gets antsy in the stands. 
It might seem like a small thing, but the $1 admission fee is nothing less than a relief. The low cost helps families who already have a multitude of expenses and at the same time encourages spectators to attend tournaments. (Some venues charge anywhere from $5 to $15.) Amelia loves to have a crowd cheering her on and it does my mom-heart good to see friends and family filling the stands. 
Fort Wayne, Indiana Amenities
Let's talk eating and shopping. When we have a break between games, the convenience of restaurants within 5 minutes of the venue saves us so much time. At other venues we often feel like we can't leave for lunch because the travel time will cause us to miss part of the next game. We frequent Chipotle, Panera, Five Guys, and Blaze Pizza, to mention a few. If we have the luxury of a more significant break, you'll find me browsing at Target or DSW, both just a few minutes away. 
While the world, at times, might feel unwelcoming to kids like Amelia, in the world of Turnstone, the possibilities are endless.