I have lived in Fort Wayne for two years, and in that time
Parkview Field
has become a place of fun memories. I have, of course, watched
TinCaps
baseball games there, but I also saw Bob Dylan perform, shopped for groceries at Fort Wayne's Farmers Market, made new friends, and socialized with business colleagues. Parkview Field is a great asset to Fort Wayne!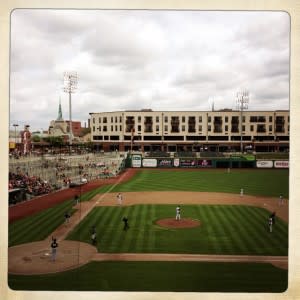 If you have been to the field you have seen the suites on the second level of the facility. These suites are used by many local businesses and organizations for conducting casual meetings, to treat employees, or to showcase Fort Wayne to customers and clients. However, what you may not know is that the
suite lounge is available to the public for rental.
The suite lounge is a beautiful facility that includes a bar, food and beverage service, indoor and outdoor seating, indoor monitors covering the game, and a great view. If you are looking for a unique way to see a game or host a special event this is a great option. You get to take in a TinCaps game while also kicking back and relaxing in style! It's a great idea for your next company outing, birthday party (for all ages!), family trip, or just to have some fun with friends. Let's play ball!