Do you remember as a kid begging your parents to take you to your favorite little ice cream stand? Did your favorite ice cream stand offer more than just ice cream?
For the neighborhood of Waynedale, on the south side of Fort Wayne, their own local favorite ice cream stand is actually called The Stand.
The Stand is an ice cream staple, but it offers much more than just ice cream. They have refreshing fruit smoothies, fat-free frozen yogurt, great soups, delicious Coney dogs, and much more! There are many different types of Dogs to choose from. There is everything from the original Coney Dog to the Jalapeno Bacon Ranch Dog to the Waynedale Dog (which is an original Coney dog with a special coleslaw sauce). It is a great place to eat on those warm summer afternoons or get dessert on those lazy summer nights.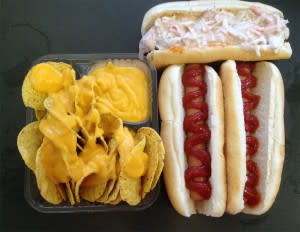 The Stand is located on Bluffton Road next to Bobick's Golf Headquarters. Ordering and eating all take place outside, but there are tables with umbrellas to offer shade. It is a great place to hang out with friends, family, or a sports team and enjoy some great food and delicious desserts!
The Stand is open Monday through Sunday from 11 am – 10 pm.