I recently celebrated my first anniversary as a full-time vocal artist at Heartland Sings (yay!). As such, I had my first "Spirit of Christmas" concert experience last year. I've been performing for almost my whole life, and I can definitely say that this concert is very unique.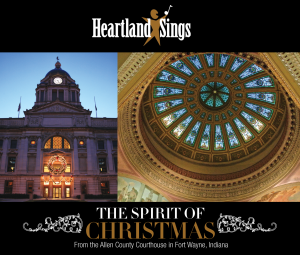 Why? Much of it has to do with the location of the concert: the Allen County Courthouse. The chance to visit the courthouse (in happy circumstances no less!) and listen to some great music in a singular acoustical space is reason enough to include The Spirit of Christmas on your itinerary during the holidays.
The Allen County Courthouse: Beautiful on the Inside and Out
Any visitor to Fort Wayne has noticed the grandiose Allen County Courthouse located at the heart of downtown. What fewer people get to see is the inside of the building, which is just as opulent as the outside. Unfortunately, the inside view is usually reserved for people who work in the building and people who have to go to court.
To make matters worse, for security reasons, visitors are not allowed to bring cameras of any kind including phones with cameras into the building during regular business hours. During the Spirit of Christmas, we rent the whole building so people can bring cameras into the building, enjoy the show, and take as many selfies as they want!
Singing in the Courthouse
Not only is the inside of the courthouse stunning; it is also an incredible acoustic space with a several-second sound delay thanks to the high dome. My boss and the founder of Heartland Sings, Maestro Robert Nance, had the idea for this concert when he realized how beautiful music would be in this space. The delay causes a haunting, ethereal effect when coupled with the selections (some Christmas classics, some more unusual holiday fare) featured on the concert.
Hearing is Believing
This year we'll be doing four shows on December 17th and 18th (2:00 p.m. and 5:00 p.m.). Get your tickets here--they sell quickly! Get your fix before the show by watching the Spirit of Christmas documentary through the holiday season on PBS (or catch it here on YouTube). You can also buy the Spirit of Christmas recording on iTunes or on CD.