When I first met my boss, back when I was simply an interested applicant, he told me he was hoping to create a vocal ensemble similar to The Real Group. Now I've been a part of Heartland Sings for a year and a half, and the Real Group is coming to Fort Wayne to sing with us! If you've heard of The Real Group, you're probably buying your tickets right now. If you haven't, here's why you should be buying your tickets right now.
Who Is The Real Group?
The Real Group is an internationally acclaimed a cappella group. This Swedish group performs mostly in English and produces most of its own compositions. It has received over a dozen Contemporary A Cappella Awards and performed thousands of concerts worldwide. Basically, if you like groups like Pentatonix, Fifth Harmony, and the New York Voices, you'll adore this quintet.
What Can I Expect?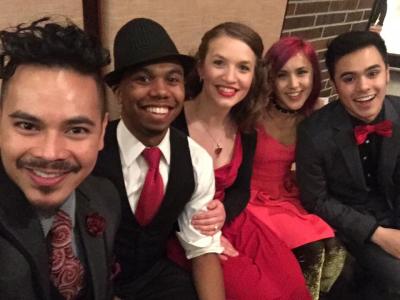 The Real Group is coming to Fort Wayne to celebrate Heartland Sings' 20th anniversary, which happens to be this year!
During their stay in Fort Wayne, The Real Group will be participating in two events with Heartland Sings (pictured to the left; I'm the one with the pink hair). First, they will perform at the Auer Performance Hall on the campus of Indiana University-Purdue University Fort Wayne (IPFW) on Friday, March 24 at 7:30 p.m. I'm very excited to share the stage with The Real Group for a few numbers, and to perform one of Heartland Sings' original a cappella arrangements for the concert as well.
The audience will be packed with vocal ensembles from all over the Midwest, not just because they love The Real Group, but because they want to work with them. On Saturday, March 25, The Real Group will be conducting masterclasses (similar to vocal coachings) with many regional singing groups, including Heartland Sings. If you are in (or know of) a vocal ensemble that could use a coaching with a world-renowned a cappella group, please contact us--between the concert and the master class, this is a vocalist's dream weekend.
Can't Get Enough?
If you want even more of The Real Group, consider purchasing VIP tickets to the concert. These $75 tickets include a CD signed by all five group members and the chance to meet The Real Group (not to mention yours truly) in person!
Heartland Sings Presents The Real Group Concert Details
When: Friday, March 24, 7:30 p.m.
Where: Auer Performance Hall, Rhinehart Music Center, 2101 Coliseum Blvd, Fort Wayne, IN 46835
Tickets: $25 general admission, $75 VIP. Package deals available for vocal groups participating in the March 25 masterclass.