Discover the many local Fort Wayne coffee shops that will keep you feeling warm and cozy this season!
Coffee is great on all occasions whether it is studying, reading, or just catching up with friends. Escape the cool, brisk air by enjoying some of Fort Wayne's best coffee.
You won't want to miss this, so grab a cup of coffee and settle in as I give you a tour of the best coffee around town!
The Perfect Blend of Fort Wayne Coffee Shops
Our first stop on this tour is Fortezza Coffee. Fortezza Coffee is located on South Calhoun Street across from Pint & Slice.
Fortezza has many rooms inside allowing for a quiet place. They have couches, bar-style seating, and regular tables inside, as well as seating outside. The inside of Fortezza Coffee is very welcoming with charcoal blue walls and a beautiful ceiling with intricate designs. 
Fortezza is widely known for their beautiful latte art and great espresso! If you are feeling hungry, they also serve a splendid dish of crème brulee French toast among other delicious meals.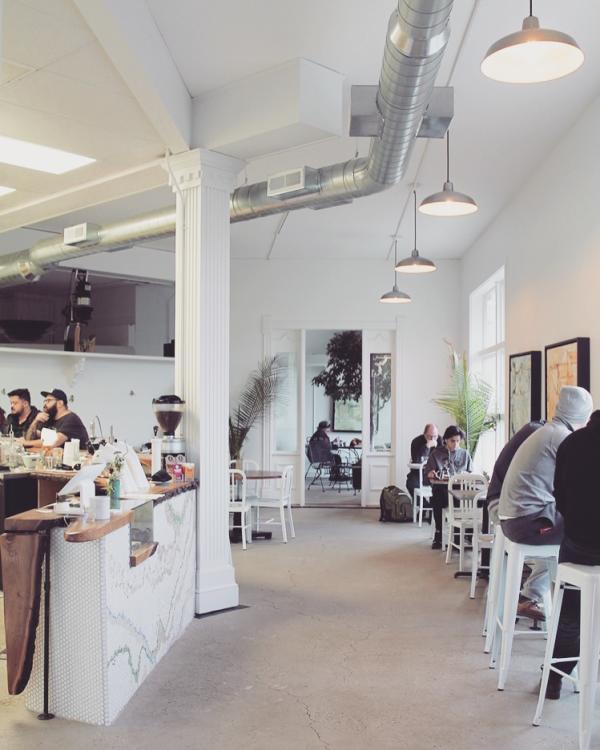 We will now work our way out of the heart of downtown to Conjure Coffee on Columbia Avenue.
Recently opened in 2015, Conjure Coffee offers a clean space with nice white walls and wooden bar. A neat thing about Conjure Coffee is that they have many air plants and succulents inside the shop!
Everything there is hand roasted in small amounts, meaning it is always fresh and even more exciting it is all local! An added bonus of Conjure Coffee is they provide donuts on Saturdays and many other yummy pastries.
Next stop is Old Crown Coffee Roaster on North Anthony Blvd next to Jamison Meats. Old Crown is a very casual cafe and bar with a groovy feel.
The atmosphere is very inviting and continually receives great reviews on their service as well as fresh foods. If you are all coffeed out, no worries because Old Crown serves great cocktails and brews.
Old crown caters to everyone of all ages with tables
inside and outside! One of Old Crown's most popular drinks is their house coffee, which will always be there if you want to stop on by.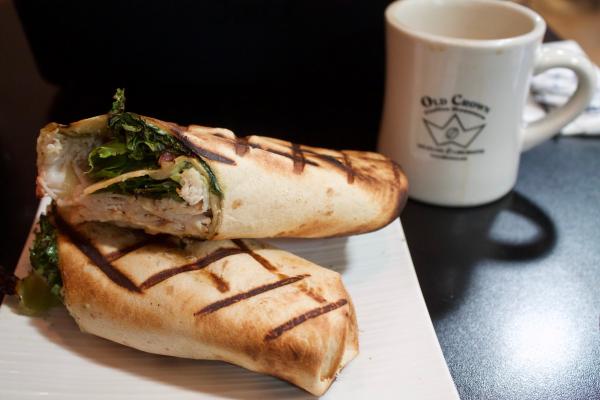 Our final stop on the coffee tour is just up the street at Firefly Coffee House.
Firefly Coffee House is a very eclectic and unique place. The are many different types of seating inside and out from tables to sofas to a cute patio with lights and greenery. The beautiful art along the walls as well as the gift shop make it a fun hangout for everyone! And we can't look past the delicious pastries they offer as well!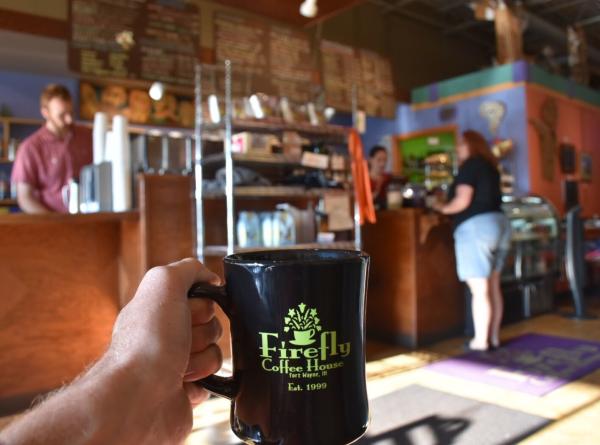 As we wrap up the tour, I hope that you will find yourself snuggled up with a book and a delicious cup of coffee in one of these shops.
Do not let the cold air get you down, get out and visit your local coffee shops!