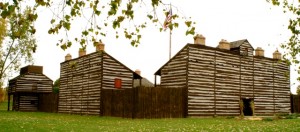 Have you ever wondered what it would be like to experience a day in the life of a 19th Century American soldier? Well, your opportunity has arrived!
This Saturday and Sunday, July 8 and 9, you can be transported back in time to experience the Siege of Fort Wayne 1812 at the Old Fort. Witness a reenactment of the siege and talk with soldiers, women and children about what their lives were like living inside the Fort. Admission to the Old Fort: Siege of Fort Wayne 1812 is free. Tours will run from 11 a.m.-8 p.m. Saturday, and 11 a.m.-4 p.m. Sunday. To learn more, visit them online at
www.oldfortwayne.org
!