The Oyster Bar
has a long and storied history in Fort Wayne. It was born on South Calhoun Street in 1830. In its long life, The Oyster Bar has had many names and many owners. It has been a saloon and the gathering place of Fort Wayne's professional crowd. Now, it is a Fort Wayne institution.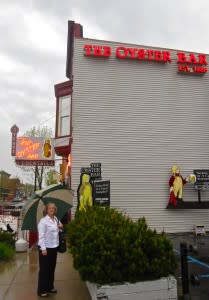 I fell in love with The Oyster Bar the first time I visited. The atmosphere is second to none. There is no where else with this kind of character and charm. Where else do you have to walk through the kitchen to reach your table? The walls are adorned with the kitsch that can only accumulate from a years of doing good, fun business. The main dining room is small and intimate with a beautiful bar serving as the focal point. On that first visit I learned about the excellent clam chowder, the tastiest oysters around, and the gift of the half order. If you can't decide between the special and your regular favorite selection - don't worry you can have both, one-half of each! It is brilliant. Since being diagnosed with Celiac Disease, finding fine dining has been a challenge. If gluten is toxic to your system you hope that when you tell a server that you can't be near gluten that he or she knows what that means and cares. I am happy to report that The Oyster Bar is my and your friend. I ventured back to The Oyster Bar after my diagnosis with my family. The Oyster Bar is my Mother's favorite Fort Wayne restaurant. I was thrilled to find the servers accommodating and a chef that has experience cooking without gluten. I had a wonderful meal, free of fear. I feel that no visit to The Oyster Bar is complete without oysters! I prefer mine raw, although The Oyster Bar has several cooked options. As usual, the oysters were a perfect mix of the ocean and spicy cocktail sauce. Next I had a wedge salad, no croutons and the dressing on the side. For my entree I selected one of the three catches of the day, the snapper, prepared on a cedar plank with asparagus. The fish was perfectly cooked and very flavorful and the asparagus (minus the hollandaise) was crisp and tasty. It was a gluten-free win!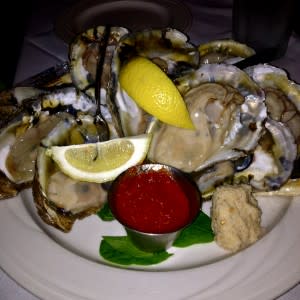 The Oyster Bar is a great spot whether you are looking for a gluten filled plate of battered walleye (which is good stuff) or a piece of grilled fish. An evening at The Oyster Bar is a treat. Go and enjoy it. The Oyster Bar is located at 1830 South Calhoun Street and is open Monday: 11 AM to 10 PM, Tuesday: 11 AM to 10 PM, Wednesday: 11 AM to 10 PM, Thursday: 11 AM to 10 PM, Friday: 11 AM to 11 PM, Saturday: 5 PM to 11 PM, and Sunday for private events only (minimum of 20 people).