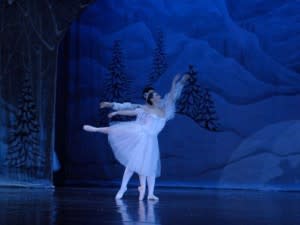 A holiday classic that many families look forward to every year is Fort Wayne Ballet's
The
Nutcracker.
Tchaikovsky's
Nutcracker
is the story of a young girl named Clara, who gets the gift of a nutcracker at a fabulous holiday party from her godfather.  When Clara falls asleep after the party, she enters the Nutcracker's world in her dreams, where a giant, living Nutcracker must fight the Mouse King's army and later, enter the Kingdom of Sweets. But this is not the same ballet as years past.  The Fort Wayne Ballet strives to make changes every year that will enhance the story and make it a more visually beautiful performance. This year, new backdrops will be featured in the party scene and the snow section.  Besides new set additions, there will also be new characters, including a male dancer who appears with the Dewdrop ballerina, as well as magical unicorns that make an appearance for the first time in
The Nutcracker.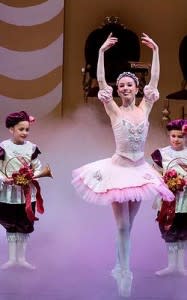 The Fort Wayne Ballet's commitment to adding new elements every year enhances the show's experience while keeping audience members on their toes for new surprises.  Even with the additional elements throughout the show, the Nutcracker maintains the delightful traditions that make this holiday classic so special.  The party scene transports audience members of all ages as mischievous children, dancing guests, and live animals make an entrance onto the stage. But the dazzling party scene is only a prelude to the enchantment of the dream world, where Clara and the Nutcracker go to a land of snow, an enchanted winter wonderland with dancing snowflakes. They also meet the Sugar Plum Fairy, who rewards them with dances from around the world, including Arabian, Chinese and Spanish dancers. The last number comes from the Sugar Plum Fairy and the dashing Cavalier who enchant us with their finale, a pas de deux. Beautiful sets, magical characters, and special surprises await children and adults of all ages in this holiday classic. Fort Wayne Ballet's presentation of
The Nutcracker
is a wonderful tradition to add to your family holiday experience this Christmas.
PERFORMANCE TIMES
Friday, December 5, 2014 |  7:30pm* Saturday, December 6, 2014 | 2:30pm* Saturday, December 6, 2014 | 7:30pm* Sunday, December 7, 2014 | 2:30pm Tuesday, December 9, 2014 | 7:30pm Friday, December 12, 2014 | 7:30pm Saturday, December 13, 2014 | 2:30pm Saturday, December 13, 2014 | 7:30pm Sunday, December 14, 2014 | 2:30pm
PARTIES & RECEPTIONS
Sugar Plum Parties | after matinee performances | $8 * Performance with the Fort Wayne Philharmonic ** All performances are at the
Arts United Center
TICKET PRICES
ADULT TICKET PRICES: $43.50 (Regular Seating Area) and $49 (Premium Seating Area).Discounts available for Seniors (Ages 60+), Youth (Ages 11-18), and Children (Ages 3-9). Please call the Box Office at 260.422.4226 for more information or order tickets 
online
.