As I write this, only a few more hours remain until the premiere of
Harry Potter and the Deathly Hallows: Part 2
. And while this isn't a post about Harry Potter, the film offers me a chance to blog about a recent addition to Fort Wayne's entertainment landscape: "The IMAX Experience" at Rave Motion Pictures, located at Jefferson Pointe.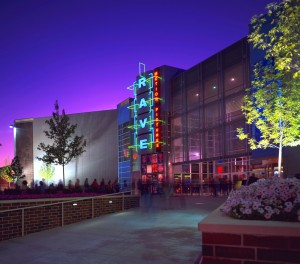 Why do I need to see a movie in IMAX, you ask? Well, for one reason, the experience is so immersive. The screen is bigger, the sound is louder – you really feel as if you're a part of what's going on onscreen. This IMAX screen is not as large as some others you may have seen (the system was retrofitted to one of Rave Motion Pictures' already-existing theaters), but believe me, you won't notice the difference. I've seen two of my favorite films of the summer so far in IMAX,
Fast Five
and
Super 8
. Both were great movies, but I really feel like I enjoyed them more than I would have in a regular theater. In particular, the climactic scene in
Fast Five
, one of the greatest car chases I've ever seen put to film, was just thrilling in IMAX. More and more films are being shot in IMAX. Christopher Nolan is utilizing the technology yet again for his upcoming Batman sequel,
The Dark Knight Rises
. And whether you love 3D or hate it (I'm still on the fence), combine the two and that can potentially make the experience even richer. Every movie fan wants to get the most out of every movie. "The IMAX Experience" absolutely allows you to do that. And in just a little while (tomorrow evening, to be exact), I'm going to enjoy watching "He-Who-Must-Not-Be-Named" get his wand kicked by a certain boy wizard. Rave Motion Pictures, located at 4250 West Jefferson Boulevard in Fort Wayne, IN,  shows a number of films in IMAX, including the aforementioned
Harry Potter
. IMAX tickets cost $2.00 more than standard ticket prices. Click
here
for more information about the Rave and all the fun activities you can do at Jefferson Pointe!