You're never too old or too young to appreciate history. The History Center in downtown Fort Wayne is a great resource for those looking to learn more about the past.  And through the addition of a new gallery, they are making history even more accessible for the general public. The museum makes the past come alive for more than 20,000 students a year. But that's not the best part! Of those students more than 200 school groups (representing approximately 7,500 students) tour the museum free of charge through the Heritage Education Fund. Each student is provided with a complimentary admission pass, so that he or she may return for another free visit to the museum with their parent or caregiver.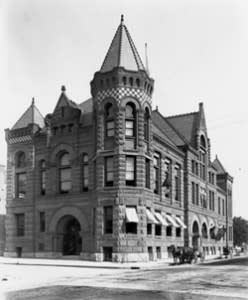 The History's Center approach is what attracts students. School group tours consist of a multi-part presentation of the community's history. During the orientation, History Center staff display objects from the collection and relates stories connected with the artifacts. The idea is to pique the students' curiosity and prepare them to take the tour through the permanent and temporary exhibits. An orientation video follows, and then the students are broken up into small subgroups where they can tour the museum's 37 permanent exhibitions through the aid of a "Discovery Guide" booklet and adult guides. In addition to The History Center's regionally pertinent permanent exhibits, all visiting school groups receive an orientation presentation tailor-made to deliver historical information relevant to each group's home county in a unique mix of interactivity, education, and entertainment. Students learn the wonders of their own backyard heritage through the history of General Anthony Wayne, Chief Little Turtle, Johnny Appleseed, among other famous Hoosiers. Speaking of exhibitions, the History Center opened a new gallery in October, with the theme "Allen County Innovation." This is the first gallery makeover since the museum opened in the 1980s, and the staff is excited to showcase inventions and products that have been conceived and/or produced in Allen County's history. The gallery affords the museum the opportunity to have more interactive/hands on displays so that children (of all ages) can also learn about how these inventions work. Can't make it to the museum, but still want to stay connected? The museum also works hard to connect with visitors and supporters virtually. Staff has been
blogging
about some of the people in Allen County's past who made history here and posting photo essays on their
Facebook
page to illustrate how a museum gallery is designed and created. The History Center is among many state organizations working to pass on the importance and richness of the past. By giving young people a sense of place and an understanding of their history, they are motivated to pass on our rich heritage to the next generation. To learn more visit
www.fwhistorycenter.com
.