Fall is in the air, and a new season of performances is here! I am a full-time vocal artist at Heartland Sings, and we have a wonderful array of concerts planned for the tail end of the year (click here to learn more about us). Next up is our Best of Broadway concert, a mix of Les Miserables, The Sound of Music, The Phantom of the Opera, and other smash hits.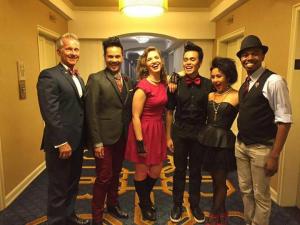 This concert will take place on October 9 at 4:00 p.m. at Plymouth Congregational Church (501 W. Berry St.) in Fort Wayne. It is first of two Broadway concerts this season; the second will occur in March in collaboration with J. Mark Mcvey, an award-winning Broadway veteran who is most famous for playing Jean Valjean in Les Miserables. I caught up with Maestro Robert Nance, the artistic director at Heartland, to find out more about this exciting concert series.
Robert Nance & the Best of Broadway Concerts
Me: How did the opportunity to work with J. Mark Mcvey arise?
RN: Our concert with Broadway veteran J. Mark McVey is the result of my conversation with the executive director of the Niswonger Center in Van Wert, Ohio. Mr. McVey has been a featured performer on their stage many times, and Heartland was asked to put together a show of Broadway and American Songbook standards with Mr. McVey as the headliner. We are thrilled for the opportunity and know that we will have a great show!
Me: What makes the Best of Broadway concerts special?
RN: Broadway music presents a wonderful opportunity for our vocal artists and our audience. Many of the shows that defined the Broadway stage in the 1900s required classically-trained singers and choruses; one only need examine the scores of any Rodgers and Hammerstein musical to confirm that such is true. The vocal artists of Heartland Sings are well-trained singers and are a perfect match for this concert of Broadway.
Me: What is your favorite part of the program?
RN: My favorite part of our show is the Stephen Sondheim medley that was arranged by my teacher, Robert Page. The collection in the medley is masterfully crafted, in part because Robert and Mr. Sondheim had collaborated on many projects and were close friends. Robert passed away this summer; thus, performing this work on our program has a special meaning for me.
If you're going to be in town during this event, you won't want to miss it! Get your tickets to this must-see concert here.