I grew up in the 70's. Back when the Cincinnati Reds were called the Big Red Machine, Life and Monopoly were just board games, and our music was on records, 8 Tracks or cassettes. So, how can I pass up the chance to see a really
sick
band—or as we used to say
fab
band—like The Guess Who on stage?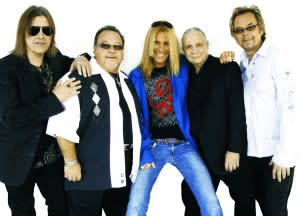 Do you remember "American Woman," "No Sugar Tonight," "Laughing," and "Clap for the Wolfman"? The Guess Who will be singing all those songs at the 8 pm concert September 8 at Foellinger Outdoor Theatre in Franke Park. Two years ago, the band put on such an amazing concert in the same venue that people are still talking about it. Tickets started selling within minutes of the announcement that they'd return. If you haven't been to Foellinger Theatre, you don't know what you're missing. It's an open-air facility where you can enjoy a nice, cooling breeze if you decide to stand up and
boogie
with the band. Or, grab a beer, a margarita or a soft drink along with the best popcorn in town. But, most importantly, purchase your tickets today before you miss your chance to
get down
with this world-famous Canadian rock band.