The Fort Wayne Philharmonic is a full-time orchestra with a vibrant annual series. In addition to its resident players, they have a volunteer chorus and they often hire soloists to perform in larger works. I caught up with Orion Rapp, Principal Oboist at the Fort Wayne Philharmonic, to get the scoop on the rest of the 2016-2017 concerts.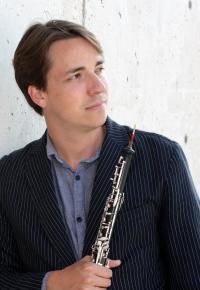 Me: Which upcoming concert are you most excited for? Why?
Orion: I'm very excited for Puccini's Tosca, which we will perform in early February. I did my doctorate studies with Nathan Hughes, Principal Oboist of the Metropolitan Opera Orchestra in New York. While I was his student I listened to and studied so much great opera. Since coming to Fort Wayne immediately after my doctorate studies, I have been eager to reconnect with great opera music. Tosca is an opera lover's opera and I can't wait to play it with my amazing colleagues in the Fort Wayne Philharmonic.
Me: Are you performing any works this season that are new to you?
Orion: Our last concert of the season which features Gustav Mahler's Second Symphony. This season's performance with the Fort Wayne Philharmonic will be the very first time I will get to perform this work. This piece is especially special for me since it was one of the first pieces of music I listened to that made me fall in love with classical music and want to play the oboe. The oboe solo in the fourth movement of Mahler's Second Symphony is particularly breathtaking.
Me: Any other oboe solos we should know about?
Orion: There are two other pieces that feature the oboe that I'm excited about. The first is a Freimann Chamber Series concert in January which will include Mozart's Quartet for Oboe and String (K 370). It's a work I have performed many times in my graduate studies, but never with my Fort Wayne Philharmonic colleagues. In my opinion, it is more demanding and musically engaging than Mozart's Oboe Concerto.
Also, I'm proud to be featured on a brand-new series called Bach in the Barn this May. I'll be playing a concerto for oboe by JS Bach. The original source material for this concerto has unfortunately been lost, but the concerto has been reconstructed by musicologists. This reconstructed concerto is both technically challenging and beautiful. It will be an honor to perform it this season for the Fort Wayne audiences.

Thanks, Orion! Click on any of the links included above if you're interested in any of the concerts he mentioned, and check out the full Fort Wayne Philharmonic schedule here. I'll be getting my Tosca tickets in advance!