Dorothy Kittaka, the president of Sister Cities and one of the founders of the Cherry Blossom Festival in Fort Wayne, is my "Fort Wayne Mom." She is on the board of Heartland Sings (my employer) and was my host during the audition process and for several weeks after I got the job. She is also a fourth-generation Japanese-American, and she was quick to tell me about Fort Wayne's Cherry Blossom Festival.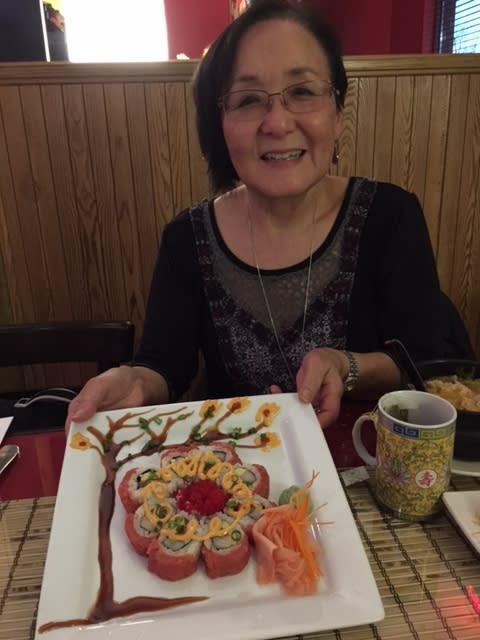 Dorothy Kittaka with Cherry Blossom sushi PHO SHI

As a Japanese American myself (my mother is from Japan, my dad from Wisconsin), I'm so glad that Fort Wayne participates in this important Japanese custom.

This year I will be singing a few pop selections at the festival to balance out all of the traditional Japanese music. Dorothy was kind enough to answer some of my questions about this wonderful event.
Cherry Blossom Festival Fort Wayne
How did the Cherry Blossom Festival Fort Wayne come into existence?
"In 1977, Fort Wayne Sister Cities started with the adoption of our first Sister City, Takaoka, Japan.  They generously sent a couple of Japanese gardeners to Fort Wayne with a master plan to build a Japanese garden as a present for Fort Wayne as a gesture of friendship. The garden is on the east side of the Arts United Performing Arts building next to the Fort Wayne Museum of Art in a small triangular space. It was beautiful, but no one knew what to do with it, and eventually, it was neglected.
"The Sister City board along with the Japanese American Association of Indiana (where we had the new year party) decided to start our first Cherry Blossom Festival to utilize the garden. The Parks and Recreation then sent gardeners to clean up and trim the garden, but it was done by people who had no clue of the aesthetics of a Japanese garden. We then had to get advice from Japan to repair and trim the garden. In the end, we were able to make the garden the focal point for the first Cherry Blossom Festival in 2006. This fall a crew of us trimmed and cleaned up the Friendship Garden again and it looks a lot better."
Does the festival still take place near the garden?
"Actually, we decided to move to the Allen County Public Library a few years ago. We needed more room and a space to move to in case of rain. The festival has grown, and is very exciting to see around 10,000 people enjoying everything from anime and cosplay to a traditional Japanese Tea Ceremony."
What are you looking forward to about this year's festival?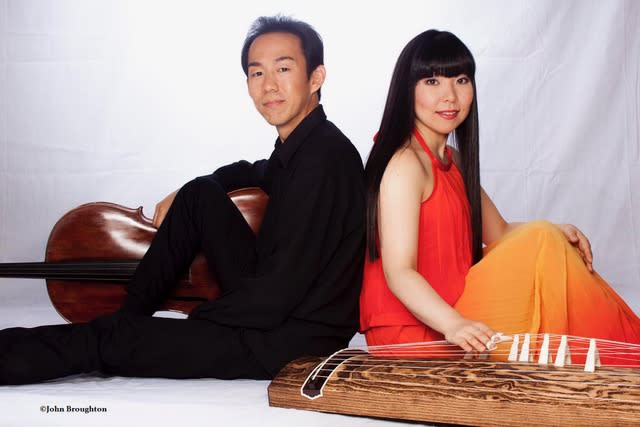 Yumeno

"This year we will be featuring traditional music by several artists, including the famous duo Yumeno. The duo is composed of Hikaru Tamaki, who was our PHIL principal cellist, and koto/shamisen musician Yoko Reikano Kimura, who he met while playing a duet for the Cherry Blossom Festival. They played beautiful music together, fell in love, married, and moved to NYC to start their career as a duo. They are now concertizing nationally and Internationally and just played at the Washington DC Cherry Blossom Festival at the Kennedy Center. Here in Fort Wayne, they will present a full concert of cello and koto/shamisen music at 6 p.m on May 7th at Plymouth Church.


"TaikoProject from LA are fantastic too. They have performed on the Oscars and Emmys and recorded with Stevie Wonder and other famous artists. We also have our own Fort Wayne Taiko (drum) ensemble, founded by Allison Ballard. The group made their own drums and have improved their skills and studied with famous taiko groups in the US and in Japan. I am so proud of this group as I see them growing in repertoire and numbers. All in all, it will be an exciting festival."

Thanks so much, Dorothy!

And to everyone else, be sure to come to this year's Cherry Blossom Festival Fort Wayne on May 7 from 12-5 p.m. at the ACPL downtown main library.

Can't wait to see you there!