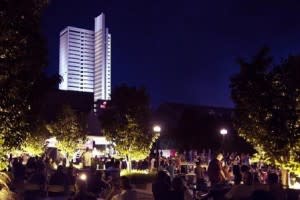 Summer in Fort Wayne is definitely the season for great music and great concerts! On top of the already great concert series, another one is getting ready to start on July 27th. That's right! The Foellinger-Freimann Botanical Conservatory's concert series Botanical Roots is back for its 7th year. You can expect a great concert every Friday night until August 31st. All performances will be held outside on the Terrace. Rain or Shine, there will be a concert!
Each concert consists of a national touring act with a local band as the opener. These concerts are not something you will want to miss. Doors open at 7:30 pm. Opening act begins at 8:30 pm. Food and beverages will be available for purchase, but not outside food or drink will be allowed. You are allowed to bring your own lawn chair. Admission is $6 for adults. Admission is free for children 12 and under.
This year's lineup includes:
Friday July 27th: Kenny Neal, Blues, With the Todd Harrold Band
Friday, August 3rd: Unknown Hinson, Rockabilly (Satire, not recommended for young audiences), With the Kenny Taylor Trio
Friday, August 10th: The Aggrolites, Reggae/Ska, With Black Cat Mambo
Friday, August 17th: The Honeybees, Rockabilly, With Scratch 'n Sniff
Friday, August 24th: Gizzae, Reggae, With Dan Dickerson
Friday, August 31st:The Lost Bayou Ramblers, Cajun, With Old and Dirty
For more information in this great concert series, visit the Botanical Roots website.