"It's not too often you get all of this neatness in one location. That's called nature." This is a line from the popular YouTube video Nature Walk.  And you can experience some very neat nature at the Foellinger-Freiman Botanical Conservatory.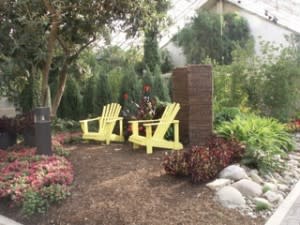 The Botanical Conservatory is a great way to get away from the hustle and bustle of the city and everyday life. There is no better time to visit the Botanical Conservatory because now through September 15, you can experience Soothing Summer Gardens. The Showcase Garden has been transformed into the center for relaxation. It has been divided into smaller "rooms". Each room has its own unique character and piece of art for visitors to enjoy. Extra seating has been scattered around the garden to allow for more seating for those who wish to linger and relax a little longer. A water feature has been added to the garden to help visitors relax with the sound of splashing water.
So go ahead. Take some time for yourself, or bring the family, for this relaxing walk through some great gardens at the Botanical Conservatory.
The Botanical Conservatory is located Downtown next to the Embassy Theatre. Hours: Tuesday- Saturday 10 am - 5 pm, Thursday 10 am - 8 pm, Sunday Noon - 4 pm. Closed Mondays, New Years Day, and Christmas Day. Admission is $5 for Adults, $3 for children (age 3-17), and FREE for Children 2 and under.
For more information, visit their website.