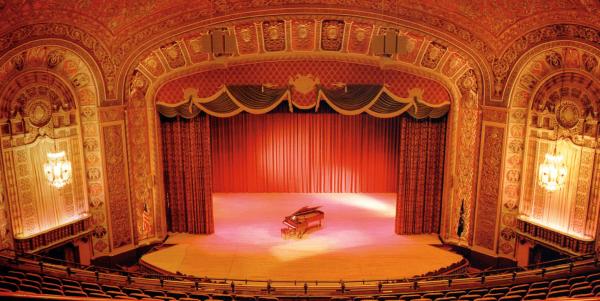 What does it mean to live in Fort Wayne? Is there one place – one landmark – in our hometown that best captures our spirit? I think there is. Now, ask a hundred different people that question, you may get a hundred different answers. Heck, some of the landmarks they name may not even exist anymore. Honestly, though, that's what I think it means to live here – history. We are all of us constantly aware of the through lines that connect us to the past and continue into the future. And to me, there is nowhere in this city that embodies that – and us – better than the Embassy Theatre. I started training as an Embassy volunteer last August, and although I've lived in Fort Wayne my entire life, I had never really appreciated it as the crown jewel of the city that it is.
The first event I worked was the Tunnel Tour, the Embassy's contribution to Fright Night, the city's annual Halloween celebration. It wasn't long into that first shift that I could see why this place was so beloved, so…well, sacred. There aren't a lot of venues like this left in the U.S., and certainly not ones that were saved by a bunch of regular folks who pitched in, who spent their nights and weekends, their blood, sweat, and tears, to renovate and renew a theatre that had fallen into disrepair. But again, that's what we do in Fort Wayne. We come together when our neighbors need us. I've worked a few events since then – the Festival of Trees, the Indiana Music Education Association (IMEA) Professional Development Conference, Scottish Fantasy.
These events have brought so many different kinds of people to the Embassy, but all those people have something in common (especially the people who have never been to the Embassy before): a sense of wonder. I feel it every time I walk in, I feel it when I sit in the audience, and lucky me, I feel it when I stand on the stage. Practice sure never got me there, but at least volunteering has. So for anyone who's never had an Embassy experience, create one. Go see a musical, a stand-up comedian, a ballet. Take the tour. Volunteer! That we have this amazing venue right here in Fort Wayne is something so many of us – including me not so long ago – take for granted. The least you can do now is take in a show.