Want to find some good takeout Chinese food downtown? Look no further than the Double Dragon, 117 W Wayne St. This shop is tucked into a row of store fronts. Some parallel parking is available right outside, next to the sidewalk. The Double Dragon is open late at night, for downtown, 10 a.m. to 10 p.m., so you can grab a bite just about any time. The Double Dragon caters to lunch and dinner guests. Diners walk up to the counter, choose their selection from a list and wait as the food is prepared behind the counter, in the kitchen. Of one thing you can be sure – the food at the Double Dragon is hot because it's made immediately. What's the best thing to get there? Mm, that's hard to say. What type of Chinese food do you like? The hot and sour soup is very good. It has thick broth, crunchy veggies and enough zing to make it warm but not grab-some-water spicy. The wax paper packet of won tons that comes with the soup is also good for cooling its spicy heat.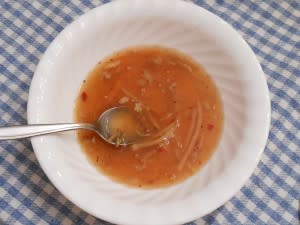 Cashew chicken – this is a dish filled with nuts and chicken chunks. The sauce is filled with vegetables and soy flavors. Rice for this dish is added to the tray – you wind up with a tv-dinner style plate with a little more than half covered in rice and a little less than half filled with meat. This dish leans towards the nut-and-chicken side, rather than onions. Another favorite is the sweet and sour pork (or chicken, if you wish). Double Dragon's sweet and sour meat is breaded and served plain, with a side dish of red sweet and sour sauce. This version of sweet and sour pork doesn't come with pineapple, carrots or green pepper. But it does have plenty of fried rice, with some vegetables and meat bits in it. Kung Pao chicken (or beef) is another staple from this restaurant. Well-cooked slices of meat, green peppers, and almonds blend in a spicy sauce that leaves your tongue tingling.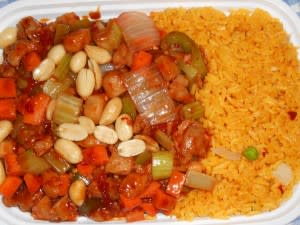 Don't forget the side dishes. Egg rolls from Double Dragon are hot, crispy and full of cabbage with a touch of meat. The dough on these egg rolls is a little thicker than the normal, so take plenty of sweet and sour sauce and hot mustard packets as you head out with your order.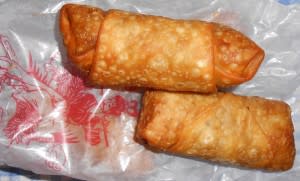 Another side they offer is crab Rangoon. These are large pieces of triangular, fried pastry with a sweet, cream cheese filling. Each pastry is a hearty handful, so plan on having just one per diner. Double Dragon is a nice staple of the Downtown eating scene. With prices that are not too expensive and a menu that nails all the staples of good Chinese food, it's a great place to stop for a friendly lunch or a fast supper option. Whether you decide to eat inside, at one of the small tables, or take the containers home with you for more casual dining, it's a great place to try!