Looking for a place to eat on Christmas Day? Restaurants in Fort Wayne dish out everything from buffets with prime rib, hams and all the trimmings; to lasagna and meatballs; to sushi and fried rice; and, of course, desserts. From the traditional to the non-traditional, here are a few of our favorite eateries for a delicious holiday meal.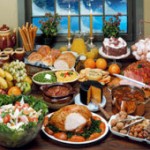 Traditional
Fort Wayne Marriott
305 E. Washington Center Road, Fort Wayne, IN; 484-0411 Enjoy an earlybird breakfast buffet available 7 am – 9:30 am, and a holiday buffet lunch served 10:30 am – 12:30 pm. On the plate: prime rib, ham, chicken, fish, plus various sides, salads breads, as well as tasty desserts. $30 adults; $15.95 children ages 5-12; free for children ages 4 and younger. Reservations required.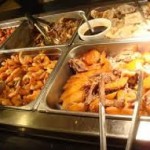 Chinese
Dig into a bowl of fried rice and noodles at one of the following Chinese restaurants.
Great Wall
3824 W. Jefferson Blvd., Parkwest Plaza; 432-8258 10264 Coldwater Road, Pine Valley Shopping Center; 497-8889 Open 11 am-10 pm
China Palace
5810 Bluffton Road; 747-0370 Open 11 am – 9 pm
House of Hunan
5626 Coldwater Road; 482-9402 Open 11:30 am-10 pm
Yen Ching
6410 W. Jefferson Blvd., Covington Plaza; 436-7786 Open 11:30 am-2:30 pm for lunch, and 4:30 pm-9 pm for dinner.
Wu's Fine Chinese Cuisine
4411 Coldwater Road; 483-0899 Open 11 am-9:30 pm
Hibachi Grill Supreme Buffet
5507 Coldwater Road in Coldwater Crossing; 484-8899 Open 11 am-9:30 pm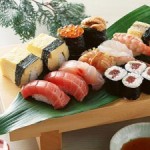 Japanese
Take a bite of an array of fresh sushi.
Asakusa Japanese Restaurant
6224 Lima Road; 490-6888 Open 4:30 pm-8:50 pm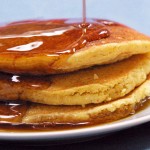 American
Feast on yummy pancakes in the morning, and juicy burgers and fries midday.
IHOP
6839 W. Jefferson Blvd.; 432-9040 4403 Coldwater Road; 483-8435 Open 6 am-2 pm 1535 W. Washington Center Road; 490-4467 Open 7 am-2 pm
Liberty Diner
2929 Goshen Road; 484-9666 Open 5:30 am-10 pm  
Order In
Take it easy and order a homemade heat-and-eat holiday feast.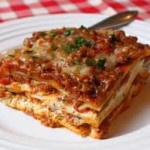 Casa's Ristorante
Go Italian Fort Wayne favorite Casa's lasagna ($44 half pan, about 10 servings; $88 full pan, 20 servings) and salad ($24 half pan, $48 full pan). Casa Ristorante Italiano, 4111 Parnell Ave., 483-0202 Casa Grille, 411 E. Dupont Road, 490-4745 Casa Grille Italiano, 6340 Stellhorn Road, 969-4700 Casa! Ristorante, 7545 W. Jefferson Blvd., 436-2272  
The Fresh Market
6306 W. Jefferson Blvd., 459-9691 Choose from a selection of meats including a holiday turkducken (boneless duck breast stuffed inside a boneless chicken breast stuffed inside a boneless turkey breast), as well as ready-to-serve sides, hors d'oeuvres and desserts.  
Desserts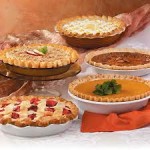 Richard's Bakery 1130 N. Wells Street; 424-4012 End on a sweet note with cookies, pies and holiday treats.