It is never easy to step away from responsibilities and make time for you; the husband, boyfriend, the kids or whatever else you may feel responsible for. That does not mean you don't need to carve out time for self-care. In more layman's terms, a girlfriend getaway for a day. The traditional way my girlfriends and I tend to carve out, this time,is a night of dancing at a new or popular night spot, a quiet afternoon, or night over wine. A quiet night in or a loud night out is only one of your many options for taking time out for self-care.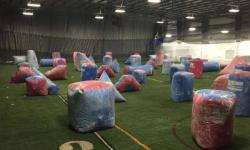 Recently, myself and a few of my closest friends decided to try something different, Paintballing. Let me just say we were looking for a way to let off some steam, and not just relax but exhale. This proved to be just the thing for our adventurous side. We wanted to not only exert some physical strength, but apply some mental strategy. Let me just say, that happened and more.
With a simple search on google and a fifteen-minute drive outside of Fort Wayne, we arrived at the Paintball Plex in LaOtto, Indiana. For a very reasonable fee, you and your girlfriends can splatter the field with paint. They have two types of artillery to choose from, paintball and airsoft. Paintball is the one large round capsule containing paint and when the target is struck leaves a lasting impression on the clothing. Airsoft is based more on the honor system; it is plastic pellets or bee bee's that leave no real identifying mark, except for maybe the injured pride of the individual struck.
The Paintball Plex is self-proclaimed as Indiana's best indoor and outdoor paintball field. This action packed wonderland is designed to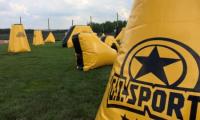 appeal to the heart of the weekend warrior and those looking for a little adventure away from the norm. The Paintball Plex recently remodeled its outdoor setting to bring an even grander experience to visitors. Not enough people to make up a team, no worries. They have other weekend warriors that can fill in the gaps. A waiver is required before participating, but to cut your registration time in half, this can be completed online at the link provided. 
The Paintball Plex is only open on the weekends during the summer months. The Paintball Plex has a place to purchase light concessions during your visit. Prices range from $25.00 to $60.00 depending on the pack and game scenario you choose. During the summer all activities take place outside, from 5 pm to sundown (right around 8:30-9 pm) on Friday and extended hours on Saturday to run from noon until sundown. Unless the weather dictates otherwise. They offer such scenarios as iron man, and capture the flag to name a few. Sometimes you want an activity that makes you pull your hair in a ponytail, and this is it.