"A fallen blossom returning to the bough, I thought -- But no, a butterfly." ? Arakida Moritake
It's April, and you know what that means. The butterflies are coming!! It's time for the butterflies at the Bontanical Conservatory! The 11th annual butterfly exhibit, "
The Butterfly Effect
," opens on April 26 and will run through  July 6.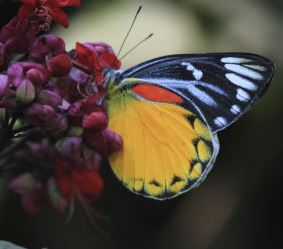 If you've never experienced this live display, make some time to stop by this summer. It's great for kids of all ages, because they can get up close and personal with the butterflies, letting them light on their fingers and learning how they transform from caterpillars...it's like "The Very Hungry Caterpillar" come to life! Of course, adults enjoy the event as well. I've seen my own mother giggle while having big, beautiful butterflies land on her as we walked through the exhibit. You'll walk through gardens with specially-draped netting to contain the butterflies. And, trust me, the butterflies are not shy. You'll end up with several on  you. Just remember to be gentle. Butterflies are extremely delicate. Guests will also enjoy the beautiful and fragrant flowers in the exhibit.
The magic of live butterflies returns again to the Botanical Conservatory this spring and summer. Enjoy a beautiful array of large exotic species within the display tent, butterflies native to habitats from South America to Africa and Asia. This year, the Conservatory examines "the butterfly effect" concept from chaos theory, that even a small action in one place can significantly affect people and systems far removed. While experiencing all that  butterflies evoke in the human imagination, Conservatory guests are encouraged to consider the ripple effect of their own choices and actions in the unpredictable dimension of their sphere of influence.
(
botanicalconservatory.org
)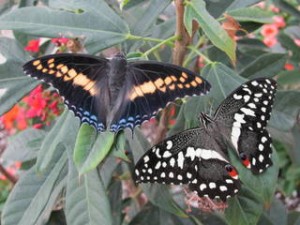 Hours:
Tuesday - Saturday 10 am - 5 pm Thursday 10 am - 8 pm Sunday Noon - 4 pm Closed Mondays
Admission:
Adults $5 Children (ages 3-17) $3 Age 2 and Under FREE
Foellinger-Freimann Botanical Conservatory
1100 South Calhoun
Insider's Tip: On Sunday, May 11 from 12 - 4 p.m., the Conservatory will host Mother's Day in the Garden. This would be a perfect time to bring your mom to see the butterflies as well! Each mom will also receive a special Mother's Day plant (while supplies last).