What a delight to spend the afternoon at a brewery! Fort Wayne, Indiana has breweries that have been around for decades and some that are new to the scene. I have done some investigative research at some of the top breweries in town, and I am happy to give you my results!
The Best Breweries in Fort Wayne, Indiana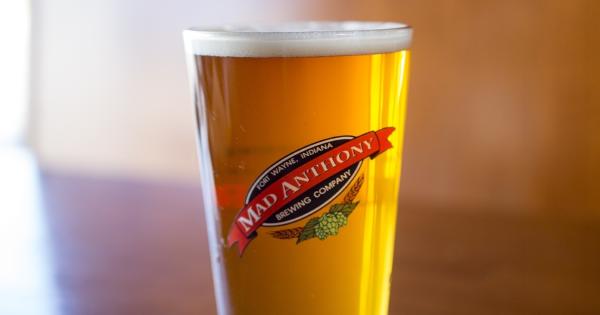 Mad Anthony is the top - dog of breweries in town and one that has been around the longest. Founded in the 90's, this brewery's Fort Wayne location has close to 20 house taps. Their locations are unique and airy with zany décor, big windows, a variety of plants, and memorabilia that shows local pride. You will be entertained by board games, live music, or their one of a kind cuisine.
Their food is absolutely delicious that alone warrants a trip there. It is not your typical pub food as their dishes are one of a kind. They have many signature items such as Scooby snacks, scotch eggs, house salad, unwraps, or gourmet pizza. They also have a great selection of sandwiches and burgers. Their menu is vast and every item shows great attention to detail and local pride.
Mad Anthony's has a very diverse selection of beers as well as some seasonal favorites. They also have craft beer cocktails, craft cocktails, and local wine. If you are looking to take some with you, they will be happy to fill up a growler of your favorite "Mad Brew". You can also find Mad Anthony "Mad Brew" in many grocery stores and on tap at local bars and restaurants. 
Mad Anthony Brewing Company prides itself on local brewing, stating "it's all about the beer" as it shows in quality, diversity, and availability.
Located at 1501 East Berry Street, Summit City Brewerks has transformed part of the old Wayne Candy Factory into a cozy space with close to 20 house brews. 
The tap room is adorned with antique fixtures, oriental rugs, modern art, and taxidermy. The original brick and industrial style of the room gives it a distinctive character. In the tap room, you will find a free pool table, darts, trivia night, live music, board games, and chalkboard tables to entertain most people. 
You won't have any trouble choosing a great beer thanks to the down to earth servers that give great brew selections. If you find yourself hungry on your visit, they have an array of craft hot dogs, paninis, and soft pretzels.
Summit City Brewerks offers a very diverse and creative selection of beer with close to 20 house brews on tap and about twenty guest taps. Order a flight to try more than one or sample before settling on one. The menu gives an accurate description of their selection and also gives you a heads up on what is to come. Around 6 brews are staples on the menu but over half of the beers on are on rotating taps as the brewers are always experimenting. 
Not a beer drinker? They also have local wines, ciders, and gluten-free beers. Summit City Brewerks also offers weekly specials that are worth stopping in for, especially on Wednesdays when their flights are $2.00 off, and Thursdays when their pints are half-off. 
Summit City Brewerks' effort to create a unique experience is shown when you stop in for a pint.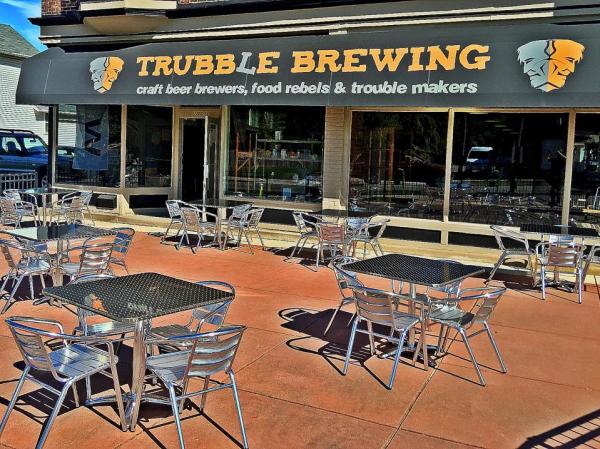 Located at 2725 Broadway, Trubble Brewing offers a simple, fresh space where you can enjoy a brew or two. The atmosphere is one-of-a-kind with large windows that overlook Broadway, local art hung on exposed brick, and so much attention to detail everywhere you look. Each hand-crafted table is stamped with their logo just as the window and door have hand painted signage.
Trubble Brewing's menu puts an original spin on usual brewery options and offers vegan and vegetarian options as well. I personally enjoyed the Bird and Burger and the Kim Cheese Fries. While you wait for your food you can play a game of chess, foosball, or Boccerball.
During my visit, they had six craft beers on rotation and they did not disappoint. Trubble Brewing will also offer their own brew, available this spring, in addition to the six other beers on tap. 
Speaking of warmer weather, Trubble Brewing will also offer a dog-friendly outdoor patio to excite walkers, bikers, and people that like to dine outside! The hard work and dedication of Trubble Brewing are obvious in the atmosphere, food, and beer selection and is definitely worth the trip!
Hoppy Gnome offers a unique experience for visitors to enjoy craft beers and unique food. Now, you can also schedule a time to brew your own beer at Gnometown Brewing – Indiana's first nano-brewery. Visitors get to become their own brewmaster.