Oh, the perks of being an intern! I recently got to interview three of Fort Wayne's most notorious celebrities  . . . the members of the Fort Wayne TinCaps Bad Apple Dance Crew. Click
here
to read the other posts in this series.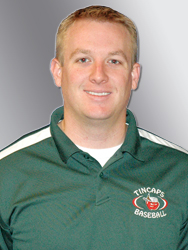 1. What motivated you to become a member of the Bad Apple Dance Crew?
The fact that I can be a terrible dancer, dance in front of thousands of people and make people laugh.
2. Who inspires you as a dancer?
I would say Shakira—the hips don't lie!
3. What is your favorite song and dance routine to perform at TinCaps Games?
I have a few favorites. One is Dynamite, and the other would be Dirty Pop.
4. Finish the following statement: My dance style most closely resembles ______________.
A new born calf—very awkward.
5. What is one song you would like to create a dance for that has not yet been used?
Kriss Kross- "Jump Jump."
6. On average, how many hours a week do you spend fine-tuning your dance skills?
Hours!?!?!  More like minutes. I'd say about 20 minutes max.
7. Do you dance outside of Bad Apple Dancer performances and practices?
I try not to torture people more than I have to, so I keep the dancing to on the field.
8. What is your signature dance move? (And please describe)
Anything with a hip thrust .
9. Do you have aspirations of taking your show on the road?
I have never really thought about this, but would people really want to see us dance outside of Parkview Field?
10. What words of advice do have for fans or co-workers who aspire to be in the Bad Apple Dance Crew?
If you can't really dance, there is always a shot you could be a B.A.D. Catch the Bad Apple Dancers in action at their few remaining
home games
this season!