Oh, the perks of being an intern! I recently got to interview three of Fort Wayne's most notorious celebrities  . . . the members of the Fort Wayne TinCaps Bad Apple Dance Crew. Click
here
to read the other posts in this series.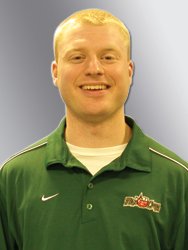 1. What motivated you to become a member of the Bad Apple Dance Crew?
More than anything I guess you could say I wasn't afraid to do it!  Minor League Baseball is all about having fun, and I really thought this would add to the experience.
2. Who inspires you as a dancer?
This is the first time I have ever been asked this question, so I have never really thought about it.  I guess I would say John Travolta and Justin Timberlake.
3. What is your favorite song and dance routine to perform at TinCaps Games?
That is a tough one, but "Dynamite" is probably my favorite dance to this point, though there are several others close behind!
4. Finish the following statement: My dance style most closely resembles ___________.
JC Chavez. I feel like I need to explain.  I grew up in the "TRL" era on MTV.  Unlike the extremely talented Justin Timberlake, JC Chavez is not talented enough to go solo, but in a group, he can get by.
5. What is one song you would like to create a dance for that has not yet been used?
For the longest time is was "Pop" by 'N Sync, but we were finally able to come up with something for that one a few weeks back.  I feel like there is a lot of old school Hip Hop we can still get into, maybe "O.P.P." by Naughty by Nature.
6. On average, how many hours a week do you spend fine-tuning your dance skills?
I usually say the average game day we probably spend about 15 minutes putting something together, so 1-2 hours a week during the season probably isn't too much of a stretch.
7. Do you dance outside of Bad Apple Dancer performances and practices?
I've been known to hit up a lot of dance floors at wedding receptions!
8. What is your signature dance move? (And please describe)
I'd probably have to go with the running man.  There are a few different styles, I'm not sure if there is a technical term, but I refer to them as "traditional" and "side-to-side."  I enjoy them both, but the side-to-side running man is probably my favorite.
9. Do you have aspirations of taking your show on the road?
I'm a big Milwaukee Brewers fan, and they have their racing sausages that have made a few appearances on the road, and they can now even be rented for parties.  If people would be willing to have us, I certainly wouldn't be against it!
10.   What words of advice do have for fans or co-workers who aspire to be in the Bad Apple Dance Crew?
Most importantly, never take yourself too seriously.  Especially with this job! Catch the Bad Apple Dancers in action at their few remaining
home games
this season!