Oh, the perks of being an intern! I recently got to interview three of Fort Wayne's most notorious celebrities  . . . the members of the Fort Wayne TinCaps Bad Apple Dance Crew. This is the first of three insightful interviews. Click
here
to read the other posts in this series.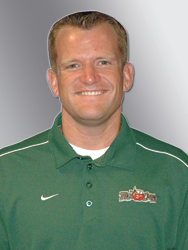 1. What motivated you to become a member of the Bad Apple Dance Crew?
I always got bored just dragging the infield, and it wasn't entertaining for the fans, so why not dance and get the crowd going?  My extensive experience going all the way back to my mom making me take ballroom dancing as a kid just made it a natural transition.
2. Who inspires you as a dancer?
Michael Jackson, Usher, Justin Timberlake, James Brown, Lady Gaga, Carlton from the Fresh Prince—I find inspiration in a lot of places. Tyler wouldn't admit it, but his inspiration all comes from Justin Bieber and Jaden Smith.
3. What is your favorite song and dance routine to perform at TinCaps Games?
Poker Face is a good one, and the players doing that with us for the last regular season game in 2009 was great!  I love the crowd getting into it, and their favorite is probably "Party in the USA!"  So many to choose from though and you can check them all out if you'd like (
http://www.youtube.com/user/TheTincaps
)!
4. Finish the following statement: My dance style most closely resembles ______________.
Vanilla Ice.  He was all about the short high energy dance moves, which is pretty much every dance for us.  Now I just need that hairstyle…
5. What is one song you would like to create a dance for that has not yet been used?
"Pump Up The Jam"
6. On average, how many hours a week do you spend fine-tuning your dance skills?
Usually about 20 minutes on a game day.  The sad part is that I can't listen to the radio or hear songs without thinking if they would work for us to dance to—that's constant.
7. Do you dance outside of Bad Apple Dancer performances and practices?
On occasion when I'm out and about and at wedding receptions and things like that.  Otherwise I try to lay low.  I don't want to get challenged to a dance off or anything, because there are no winners in that situation!
8. What is your signature dance move? (And please describe)
It would have to be shaking the booty, and there are a few variations.  I can work the swivel, the side to side and the circle.  Sometimes even the rare combination of all the three at the same time.  It's mind blowing!
9. Do you have aspirations of taking your show on the road?
I've always joked that it would be fun to be a national entertainer, so I wouldn't be opposed to it.  I think as of yet the farthest we've taken our show on the road is across the street to the Grand Wayne Center for the Brain Game.
10. What words of advice do have for fans or co-workers who aspire to be in the Bad Apple Dance Crew?
For co-workers, just ask and you could be the next guest dancer.  For the fans, make sure to pay attention next season as there will be an opportunity through a charity function to bid on the opportunity to be a Bad Apple Dancer for one game. Catch the Bad Apple Dancers in action at their few remaining
home games
this season!